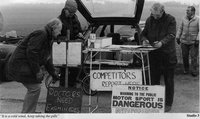 Thursday 27 November 2014
VSCC celebrate 25 Years of MSA Medicals at the 2014 Winter Driving Tests
Next week will mark the 25th Year of RAC/MSA Medicals carried out by the team of VSCC Doctors alongside our annual Winter Driving Tests, the traditional curtain-closer to the Club's calendar of events, taking place at Bicester Heritage, Oxfordshire on Saturday 6 December.
The initiative was first introduced at the Enstone Driving Tests in 1989 by Doctors Willie Sellers – still leading the team today – and John Holden, providing Medicals for their fellow Club Members required for application of the following season's (then) RAC Competition Licence. With appropriate 'shelter' provided by Event Clerk of the Course, Malcolm Elder and an E.C.G. machine kindly loaned by Hewlett Packard, an impressive £680 was raised for the 'Save the Children Fund' the first year and the project became an annual event for charity, following the Oxfordshire-based Driving Tests from Enstone to Abingdon, Westcott and finally Bicester.
The 2014 nominated charities from which the
Medicees
will be able to decide where their £75 fee contribution will go are Practical Action, Women for Women and Mission Motorsport, the latter Bicester Heritage's own chosen charity this year, whilst our traditional administration team of Duncan, Karin and Charlotte Ricketts will again be on hand to oversee proceedings. There is no need to book in advance, simply turn up at Bicester Heritage from 9.00am with your body, your MSA Licence application form and your cheque book. As always, those tax payers among you will be asked to complete a 'Gift Aid' declaration as well so the chosen charity can reclaim the tax on your donation.
You can read more about this year's chosen charities via the links below:
www.practicalaction.org
www.womenforwomen.org
www.missionmotorsport.org
Those Race/Speed Competitors attending the Medicals are also encouraged to come along to our annual end of season
Race & Speed Forum
at the venue on the day, starting at 2.30pm. This is your chance to give feedback on the 2014 calendar of Race, Sprint and Hill Climb events and also put forward any suggestions for these disciplines for next year and beyond. Tell us what you think of the venues, meetings, technical requirements and organisation all in an open forum style meeting.
For more information on the Winter Driving Test (CLICK HERE) or visit the Event Page (CLICK HERE)