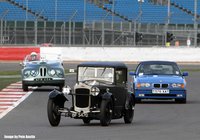 Friday 20 February 2015
VSCC Pomeroy Trophy 2015 – the legend continues this weekend at Silverstone
A VSCC staple for over 60 years, the 'Pom' continues to attract one of the most eclectic line-up of cars you are likely to see anywhere in the world of motorsport. Silverstone welcomes us again tomorrow Saturday 21 February.
The only Club event open to all Pre- and Post-war cars (to capacity restrictions) returns to the home of the British Grand Prix for one of our oldest and most unique traditions. Having proven themselves 'roadworthy' via a Filter Point en route to the circuit, they will face the traditional morning challenges, including the famous 'suitcase test' and driving tests of speed and agility before taking to the National Circuit for the afternoon's forty minute Regularity Trial to complete a designated target number of laps. Aided by the event's complicated formula, we will crown the best GT car by day's end.

The day's entry spans exactly a century with Alisdaire Lockhart's 1911 Vauxhall Prince Henry the oldest machine on show, driven by Bob Towell – a successful finish will see him a deserved winner of the Pomeroy Edwardian Trophy as the sole entrant in the category, otherwise look out for the top-placed Vintage (Pre-1931) finisher. As is tradition, the list of participating Pre-war cars is littered with Frazer Nash racers, so successful has the marque been in recent years, notably winning both the overall Pomeroy (Fred Wakeman – FN Super Sports) and Pre-war Densham (Charles Gillett – FN 'Owlet' Saloon) Trophies last year. It's a delight to see a trio of Vauxhall 30-98s in the line-up, paying homage to both the event's namesake and the inaugural winning car back in 1952. Expect to see 'Pom' regulars Dudley Sterry and Alex Pilkington perform well in the HRS and Alfa Romeo 6C 1750 respectively too.

The Post-war class offers the usual eclectic mix of Saloons and Sports-Cars. The BMW badge is well represented, with examples spanning four decades, as is fellow German manufacturer Porsche. Ford bring the American challenge, with a pair of 1960s Mustangs pitted against a pair of British contemporaries in Adrian Goding and Michael Steele's Cortinas. A warm welcome to the 'Bentley Belles' on their VSCC group-debut; the all-female quartet finished a memorable 12th at the Benjafield's 24-hour team event at Portimao in October last year but will go head-to-head this weekend in both Pre- and Post-war machinery.

Morning Tests will commence at 10.00am with a Lunch Break scheduled before the start of the Afternoon track sessions. Whilst not a Public Event, VSCC Members are most welcome to attend (guests will be permitted if accompanying Members); please ensure to bring your 2015 Membership Cards to gain access to the venue. And don't forget to wrap up warm!