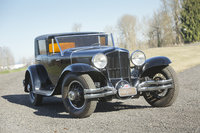 Monday 23 February 2015
RECENTLY DISCOVERED ORIGINAL, CUSTOM BODIED "HOLLYWOOD" CORD TO SHINE AT BONHAMS AMELIA ISLAND AUCTION
New York – Recently discovered after having been tucked away in the Pacific Northwest for more than half a century, Bonhams is proud to offer one of the most fabled, important and truly special Cords from the estate of Jay Hyde: the 1930 Cord L-29 Town Car with coachwork by Murphy & Company.
One of just four survivors known to have been built, this exceedingly rare automobile, attributed to famed silver screen actress Dolores del Rio (who starred alongside such legends as Elvis Presley, Jimmy Stewart, Bette Davis, Sophia Loren, Anthony Quinn, Omar Sharif, Orson Welles, and many more) is not only unique in its model and history but also totally original.
The Cord motorcar is regarded by enthusiasts, collectors and historians as one of the greatest American automobiles ever made. Innovative and advanced for its time, Cords were powerful, cutting-edge, luxurious and stylish. Due to the timing of the company's debut, however – just before the great stock market crash of 1929 – the Cord marque was short lived and production numbers were low. (In fact, it is thought that of the L-29 model, in all its variations, only around 300 exist today.) Furthermore, very few Cords were ever supplied to coachbuilders, making custom bodied examples such as this extremely uncommon; those in unrestored condition, such as this, are as rare as hen's teeth.
Owned by Jay Hyde since 1959 up until his passing in 2014, the car was carefully kept and sparingly used in a private manner. Very rarely seen in public, in 1987 it emerged to be shown at the Pebble Beach Concours d'Elegance alongside others of its breed in a class devoted solely to custom bodied Cords. With its shorter wheelbase, the beautifully proportioned L-29 Town Car is powered by a strong 8-cylinder inline engine providing 125bhp, while intricate detail throughout illustrates the hallmarks of a bespoke, handbuilt car of this golden age. Still in its original and unrestored state, the car is incredibly well preserved and runs well – a testament to the impressive stewardship of Hyde.
With pre-war automobiles in original condition becoming more uncommon and more highly prized, this Cord, with its scarce coachbuilt body and ascribed Hollywood glamour, is surely one of the most desirable cars of its kind anywhere in the world.
The distinctive Cord, along with many more exceptional collectors' automobiles, will be featured at Bonhams' Amelia Island Auction on Thursday 12 March at the Fernandina Beach Golf Club in Fernandina Beach, Florida. For more information about this highly anticipated event, please visit
Bonhams.com/Amelia
.