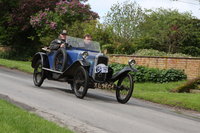 Monday 13 April 2015
Calling all VSCC Rallyists – Last Chance to Enter the Spring Rally
This is the last call for entries for the upcoming Spring Rally, the first daytime event of the season, taking place on Saturday 25 April based in Surrey.
The Online Entry System for the event will close at Midnight tonight (Monday) after which late entries may be available - contact the Competition Department via the contact details below.
The Rally will take place in the Hampshire-Sussex-Surrey triangle; a relatively new area for VSCC Rallies. The event will be based from Club Members, Tanya and Robert Lewis's home in Churt, Surrey who have kindly offered to host the event. Club Director, Dick Patten and his wife Kimberley along with James Campbell have enrolled the help of local Inter Register members to organise and marshal the event.
This route will be approximately 95 miles in length and will incorporate a welcome halfway Lunch Break.
Route Instructions will be such that crew of all abilities should enjoy the day, with the traditional different plotting times depending on experience and different average speeds depending on your car's performance.
There will be also be the increasingly popular Champagne Class for those who prefer a less competitive day and for which any Pre-war car may be entered (no Buff Form required).
Entry Fee:
£55 (½ Price for those Under 30 years old on 1 January 2015).
Closing date for entries:
Monday 13 April
Minimum Competitor Age:
17 years old with full driving licence for drivers, 12 years old for navigators.
Download Supplementary Regulations and an Entry Form, the latter to print, complete and return to the Office (email/fax accepted) or enter online from the Event page (
CLICK HERE
). Remember you will need to know the Buff Form number of the car you wish to enter and have a current payment card registered with the Club to use the online entry facility.
Marshals:
Volunteers please contact the Competition Department or Dick and Kimberley Patten on
richardbpatten@gmail.com
If you have any questions about this or any other VSCC event, please contact the Competition Department on 01608 644777 ext 4 or email
comps@vscc.co.uk
.