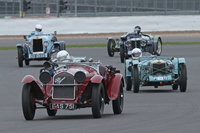 Friday 17 April 2015
A VSCC 'Spring Awakening' at Silverstone tomorrow!
The Vintage Sports-Car Club's celebrated 'Spring Start' Race Meeting comes to Silverstone tomorrow, Saturday 18 April. The long-established season opener for Vintage and Historic Racing in the UK will welcome over 200 historic racing machines for our 11-Race programme at the spiritual home of British motorsport.
We return to the popular one-day format for 2015, with the day including our traditional VSCC events in the form of the Club's illustrious GP Itala Trophy Races, catering for our core Competitors of Vintage, PVT and Historic Racing and Sports-Cars, including:
A featured event at the first ever Race Meeting after the Second World War at Gransden Lodge in 1947 – jointly hosted by the VSCC and Cambridge University Automobile Club – the collection's namesake GP Itala Trophy, for Vintage Racing Cars, attracts the usual eclectic array of Pre-1931 machinery, from Grand Prix Bugattis to Morgan Three-Wheelers to monstrous aero-engined Specials.
The day will also see us mark the 30th Anniversary of the Patrick Lindsay Memorial Trophy Race, which will bring together the very best Racing Cars of the immediate Pre- and Post-war eras, the latter group to contest the Amschel Rothschild Trophy. Patrick earned legendary status for his dominant racing partnership with ERA R5B 'Remus', so we are delighted to welcome a trio of the revered voiturettes to the grid to honour him once again.
We are also delighted to host our inaugural Premier Cru Racing event, a grid of original Pre-1941 Racing Cars from the likes of ERA, Bugatti and Maserati and a showcase for the pioneering years of Grand Prix Racing of the 1920s and 30s. We will also host rounds later in the season, at Oulton Park (18 July) and Snetterton (27 September).
Our Fox & Nicholl Trophy Race is sure to be a highlight with yet another full grid of genuine Pre-war Sports-Cars, where the larger capacity cars from the like of Alfa Romeo, Talbot, Lagonda and Invicta battle for the famous named trophy, whilst the Silverstone Trophy will see another closely-fought contest amongst the more modified road-going 'Specials'.
The day will be complemented by the Club's traditional Regularity Trial, the ideal introductory event for those new to Circuit Racing, the ever-popular Pre-war Scratch and Handicap formats, and by Invited grids from FISCAR, whose Post-war Sports-Cars from manufacturers such as HWM, Jaguar and Aston Martin return to celebrate the wonderful career of George Abecassis, and a race for 1950s Sports Racing Cars, who never fail to put on an entertaining show in their powerful machines.
As always, there is plenty to keep Spectators entertained away from the track action too, with free access to the Competitor Paddock, a wonderful display of cars from our Principal Associates Bonhams, a dedicated Pre-war Car Park and a packed Trade Village.
(
CLICK HERE
) for more Spectator Information, including details of available catering on site and opening times for Grandstands open on the day.
For those who did not purchase in advance, Tickets will be on sale on the day at just £10 per person and Children Under 16 go free!
TIMETABLE
(subject to change):
0900-1150hrs Official Practice Sessions
1200-1300hrs Lunch Break
Racing From 1300hrs
Race 1 Regularity Trial for Pre-war Sports-Cars – 30 mins

Race 2 Short Handicap Race for Pre-war Cars (VSCC Set 6) – 5 laps

Race 3 Premier Cru Racing for Standard & Modified Pre-1941 Racing Cars – 20 mins

Race 4 Silverstone Trophy Race for Special Pre-war Sports-Cars (VSCC Set 4) – 10 mins

Race 5 The George Abecassis Trophy Race (FISCAR) – 30 mins

Race 6 Short Handicap Race for Pre-war Cars (VSCC Set 6) – 5 laps

Race 7 GP Itala & Lanchester Trophies Race for Vintage Racing Cars
(VSCC Set 1) – 12 mins

Race 8 Patrick Lindsay Memorial & Amschel Rothschild Trophies Race
for Pre-1961 Racing Cars (VSCC Set 2) – 15 mins

Race 9 Fox & Nicholl Trophy Race for Standard and Modified Pre-war Sports-Cars
(VSCC Set 3) – 10 mins

Race 10 1950s Sports-Racing Cars – 15 mins

Race 11 Short Scratch Race for Pre-war Cars (VSCC Set 5) – 8 mins
Approx 1800hrs Racing Ends