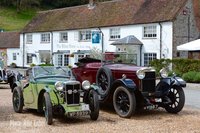 Friday 14 August 2015
VSCC head north for the Summer Rally this weekend
The Club's Summer Rally will take place near Carnforth, Lancashire tomorrow, Saturday 15 August with just under forty intrepid crews due to take part in their Pre-war cars.
The local organising team of Martin and Peter Jelley, Nigel Fraser, Peter Booth and Stuart Cooke boast a wealth of VSCC Navigation Rally experience between them so it is sure to prove an enjoyable and challenging day's motoring. The event will use some of the best driving roads that can be found in the magnificent countryside of the Lancashire, Yorkshire and Cumbria borders, superb Rally territory that has rarely been used by the VSCC and certainly not visited since a long distant Measham event.

Rally HQ will be at the wonderful Village Hall in Arkholme in the picturesque Lune Valley, a mere 15 minute drive from Junction 35 of the M6. The 95 mile route is devised in a figure of eight with the Start, Halfway Halt and Finish at the Village Hall, where pre-event coffee and a buffet lunch will be served, and a bar will be available afterwards.

As is the norm, similar Route Instructions, subtly differentiated to provide a suitable level of challenge, will be provided to participants in the Expert, Semi-Expert and Novice Classes whilst our Champagne Class will receive straight forward, unambiguous directions, designed to allow the beginners to enjoy a successful day too and hopefully be encouraged to try their hand at the discipline again.

There are plenty of familiar faces amongst the day's line-up with son and father team, Matthew and Nick Bell scheduled to lead off as Car 1 in their Alvis 12/50 Saloon, followed by a host of other previous VSCC Rally winners, including Gareth Frank and Ian Tullie in the Lea-Francis W Type and Graham Rood and Tom Campbell, winners of our Spring Rally earlier this year in their Riley.

Light Car Section luminaries Dave Crouch and Andy Fox will enjoy an outing in the former's Renault KJ1, Nick Cooper will navigate Alisdaire Lockhart in his Vauxhall Prince Henry Replica and Ian Balmforth and Nick Dent are just one of the crews marking their VSCC debut in their Frazer Nash TT Rep. Of the 11-strong Champagne Class representatives, we also welcome members of the Preston & District Vintage Car Club, which will no doubt also be providing welcome marshalling support to the local team, who are all closely associated with both organisations.

May we wish all Competitors, Officials and Marshals – without whom the day would not happen – a wonderful day of Vintage motoring!