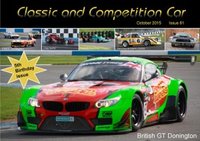 Monday 12 October 2015
Classic and Competition Car – October 2015
The October Issue is the 5th Anniversary Issue and contains reports from our very own Madresfield Driving Tests and Loton Park Hill Climb events.
It also contains reports on the Final Round of the British GT Championship at Donington Park plus BRDC Formula 4, BTCC from Rockingham, CSCC from Donington Park, The Prescott Gold Cup Hill Climb Weekend and Rally Day at Castle Combe, as well as some highlights from the Goodwood Revival.
A new event at Syston Park is featured along with some spectacular photos from the Hot Rod Drag Race Meeting at Shakespeare County Raceway.
Finally for the Classic car fan we have the Plum Festival Classic Car Show at Pershore, Classic Cars on the Prom from Bournemouth, the latest Sunday Brunch Scramble from Bicester Heritage and Stars and Stripes from Rockingham. Finally we have a Car Trial from Gaby Mohr and a look round part of Longbridge as part of Birmingham Heritage week.
Plus all our usual news and features. Visit
www.classicandcompetitioncar.com