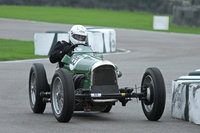 Monday 14 December 2015
Provisional VSCC Race & Speed Calendar of Events for 2016 Announced
The Club announced the provisional dates for Race and Speed Events in 2015 at the recent Race & Speed Forum, which took place alongside the Winter Driving Tests at Bicester Heritage last weekend.
As part of the our traditional calendar of five Race Meetings, next season will see the Club revive our popular Welsh Speed Weekend at Pembrey in August, which will again include a Sprint and Team Race on the Saturday, followed by a full day Race programme on Sunday.
Following our successful returns this year, we are also delighted to be back at Oulton and Mallory in 2016. Unfortunately, the VSCC will not be going to Snetterton next season but hope to see a return to the popular Norfolk venue in future years, whilst we welcome back the HGPCA to Silverstone 'Spring Start', who also bring their traditional Test Day on the Friday before the meeting.
Specific content for all meetings is being finalised and details will follow soon, with several exciting Invited Historic series anticipated to join us throughout the season.
Following the great success of the new Speed Series template this year, and we are now working to a full MSA-registered VSCC Speed Championship in 2016, which will again accommodate the Club's extensive list of Sprints and Hill Climbs:
The Provisional Calendar for 2016 is as follows:
Pomeroy Trophy Saturday 20 February
Silverstone 'Spring Start' Race Meeting Saturday 23 April (GP Itala Trophy)
Curborough Speed Trials Sunday 1 May
Wiscombe Park Hill Climb Sunday 8 May
Oulton Park Race Meeting Saturday 21 May (Hawthorn Memorial Trophies)
BARC Harewood Hill Climb Saturday 4 June
Brooklands Speed Trials Saturday 18 June
MAC Shelsley Walsh Hill Climb Sunday 3 July
Cadwell Park Race Meeting Sunday 24 July (Shuttleworth, Nuffield Trophies)
Prescott Long Course Hill Climb Friday 5 August
Prescott Speed Hill Climb Saturday 6 / Sunday 7 August
Pembrey Sprint & Team Race Saturday 20 August
Pembrey Race Meeting Sunday 21 August (Seaman Memorial Trophies)
Loton Park Hill Climb Saturday 10 / Sunday 11 September
Mallory Park Race Meeting Saturday 24 September (Bob Gerard Memorial Trophy)
Castle Combe Autumn Classic Saturday 1 October (Pre-war Sports-Car Grid)
Autumn Sprint at Goodwood Saturday 22 October