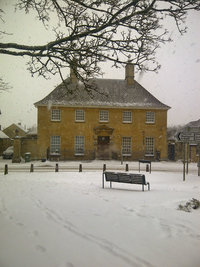 Wednesday 23 December 2015
VSCC Office Christmas Closure 2015
The VSCC Office will close today, Wednesday 23 December until 9.00am Monday 4 January 2016 for Christmas. May we remind prospective Competitors that the closing date for Measham Rally entries is the 5 January so please do not delay and get your entry in over the holidays!
Entries are now being taken for the first events of 2016 so don't delay! Take time this Christmas season to submit your entries now for VSCC events in the months of January and February, including:
Measham Rally, Thirsk, North Yorkshire, 16/17 January
(
Click here for the Measham event page
)
New Year Driving Tests, Brooklands Museum, Sunday 31 January
(
Click here for the NYDT event page
)
Exmoor Fringe Trial, Exebridge, Saturday 13 February
(
Click here for the Exmoor event page
)
Pomeroy Trophy, Silverstone, Saturday 20 February
(
Click here for the Pomeroy event page
)
John Harris (Derbyshire) Trial, Ashover, Saturday 5 March
(
Click here for the John Harris event page
)
Derbyshire Tour, Ashover, Sunday 6 March
(
Click here for the Derbyshire Tour event page
)
Herefordshire Trial, How Caple Court, Nr Ross-on-Wye, 12/13 March
(
Click here for the Herefordshire event page
)
Don't forget that entries for the first event of the year, the Measham Rally close early in the New Year (5 January) so act now to book your place.
Download Entry Form and Regulations or enter online at the individual event pages by following the links above. You will need to have a payment card registered with the Office and know the Buff Form number of the car you wish to enter to use the online facility. Otherwise, please print and complete a form to return (fax/email accepted).
Club Members can also now purchase their tickets for our
Annual Awards Dinner & Presentation
at the Hilton Hotel, Warwick on Friday 18 March (
CLICK HERE
for more information). As tradition, it will be combined with our
AGM
and
Marshals' Dinner & Forum
at the same venue over the weekend (both taking place on Saturday 19 March).
If you have any questions about these or any VSCC event, please contact the Competition Department in the New Year on 01608 644777 Ext 4 or email
comps@vscc.co.uk
.
May we take this opportunity to wish all of the Club's Members and Associates
a Merry Christmas and a Happy New Year from all at the The Old Post Office!