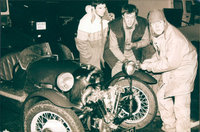 Friday 06 January 2017
Last Call for the VSCC Measham Rally 2017
The 'Ultimate Test' of Pre-war Car & Crew since 1950 returns to the heart of England for 2017… are you ready to take on the challenge? Entries close soon for the Club's celebrated overnight Measham Rally, based from Bruntingthorpe Proving Grounds, near Lutterworth in Leicestershire on 21/22 January.
Entries close this Monday 9 January so don't delay - enter now to take part in this historic event!
The 67th Annual running of the historic VSCC Navigation Rally
Event Headquarters for Start / Halfway / Finish centrally located (only minutes from the M1)
Top Quality Indoor Facilities for Scrutineering & Full Catering Onsite
Start 9.00pm – Finish 5.00am; 160 Miles including two 'Special Stages' on the airfield
Simple Route Instructions (definitely no 'Mensa' test!)
The Measham is one of the most important events in the VSCC calendar and the ultimate Pre-war motoring challenge. Always organised by enthusiasts for enthusiasts, a finish, let alone an award, on any Measham is a major accomplishment of which any motorsport Competitor can be proud.
This year we intend to introduce a new format for the Measham that will enthuse and entice those who are old hands at the event and those who we hope will try it for the first time. This event will be accessible to all but will continue to offer those challenges that the Measham is famous for.
The Start, Halfway and Finish will be at Bruntingthorpe Aerodrome, an excellent venue, easy to get to from any part of the country, which offers ample trailer parking, undercover scrutineering, fettling facilities and plenty of plotting room.
Drinks and hot food will be available on site throughout the event, whilst there are some great village pubs with rooms and many lovely B&Bs in the area for those looking for local accommodation.
The route will be approximately 160 miles. Instructions in the 1
st
half will be by map reference only as traditional, whilst the 2
nd
half will be following a new format that will be easily accessible to all, with the emphasis being on accurate timekeeping. There will also be two sections timed to the second to act as a tie decider; these will be completed on the airfield before heading out on the main route.
All Competitors are encouraged to arrive earlier in the day, when we have been invited into the 'Quick Reaction Hangar' at Bruntingthorpe during the afternoon of the event to see the 1950's Cold War Jets specifically the 'Lightnings' which are kept there and are being restored by enthusiasts, some of whom are VSCC Members of course.
COMPETITOR INFORMATION
Entry Fee
£65.00 (½ Price to those Under 30 on 1 January 2017)
Closing Date:
Monday 9 January
Minimum Competitor Age – 17 years old with full driving licence for drivers; 12 years old for navigators.
Download Supplementary Regulations and Entry Form – the latter to complete and return by email/fax/post – or alternatively those Club Members with a credit card lodged with the Office and who know the Buff Form number of the car they wish to enter can enter online at event page (
CLICK HERE
).
If you have any questions, please contact Non-Speed Secretary, Andrew Tarring in the Competition Department on 01608 644777 Ext 4 or email
andrew.tarring@vscc.co.uk
.
MARSHALS
Please volunteer directly to the Competition Department via the contact details above.
Please support this seminal VSCC event, submit your entries now and earn your 'VSCC Badge of Honour'!