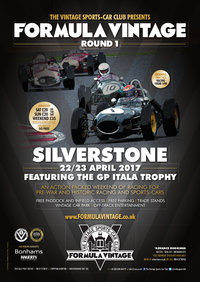 Friday 21 April 2017
Vintage Sports-Car Club set for Formula Vintage Race Season launch at Silverstone
The VSCC are set to celebrate the launch of its new Formula Vintage Race Season with over 300 Vintage and Historic Racing and Sports-Cars scheduled to take part in the opening round at Silverstone this weekend the 22/23 April.
Returning to a two-day format, this year's edition of the long-established 'Spring Start' season opener promises to be a spectacular weekend of Historic racing action, with capacity grids across the majority of the weekend's packed 18-Race programme at the home of the British Grand Prix.
AC, Alfa Romeo, Aston Martin, Bentley, Bugatti, Cooper, ERA, Ferrari, Frazer Nash, Invicta, Jaguar, Lister, Lotus, Maserati, MG, Morgan, Riley and Talbot are just some of the famous badges that will be on show alongside representatives from some of the world's most celebrated Historic race series, promising a truly special celebration of a golden era of motorsport.
Boasting an unprecedented 80 year history of racing, the VSCC's new
Formula Vintage
brand looks to bring its unique line-up of Pre-war and Historic racing to a wider audience of motorsport enthusiasts, with the Club's own prestigious Trophy races headlining at each round, starting with the ever-popular annual visit to the Northamptonshire venue.
Saturday will see the GP Itala Trophy collection take centre stage, featuring a number of the Club's most prominent silverware, including the collection's namesake GP Itala Trophy Race for Pre-1931 Vintage Racing Cars, a part of the VSCC's first meeting at Silverstone in 1949. This will again feature a special Bentley class for the Stanley Mann Cup, following a poignant inaugural running following the admired Bentley enthusiast's passing last year. Once again, the Club are honoured to welcome HRH Prince Michael of Kent, a close friend of Stanley to present the trophy.
The Amschel Rothschild and Patrick Lindsay Memorial Trophies Race for Pre-1961 Racing Cars will again bring together the pinnacle of Grand Prix and Voiturette racing machinery of the immediate Pre- and Post-war eras, whilst the Fox & Nicholl and Silverstone Trophy Races accommodate both original and more modified road-going Pre-war Sports-Cars.
As ever, Pre-war fans will also enjoy the most eclectic full grids competing in the ever-popular All-Comers Pre-war Short Scratch and Handicap formats, whilst we also look forward to some of the Club's other traditional events over the weekend, including a Race for 1950s Sports Racing Cars, the High Speed Trial for those new to Circuit Racing, as well as the celebrated Mike Stripe Team Relay Race for Pre-war Sports-Cars.
To complement the weekend's Vintage content, we also look forward to hosting races for other celebrated Historic race series, including the Historic Grand Prix Cars Association (HGPCA) Pre-1966 Grand Prix Cars, The Fifties Sports Cars (FISCAR) Tom Cole Trophy, the Historic Racing Drivers Club (HRDC) new 'Coombs Heritage Challenge' for Pre-1966 Jaguar Saloon Cars, the 500 Owners Association F3 (500) Racing Cars and the Morgan Challenge Series.
Aside from the exciting action on track,
Formula Vintage
will again offer the Spectator all that is great about attending a VSCC Race Meeting, with open access to the Paddock, where you can get up-close to the cars and drivers, a mouth-watering display of cars from our Principal Associates Bonhams, onsite catering facilities, a busy Trade Village and much more 'Vintage' entertainment for the whole family, including live music, Fun Fair, Massage Trailer, Mini Train Rides, Steam Engine and Tractor displays, Car Club displays and Army interactive zone with real-life military vehicles.
Alongside our Principal Associates, Bonhams and Hagerty Classic Car Insurance, we also welcome Tom Hardman Limited and Louis Latour Wine Agencies, who will be supporting our us throughout the 2017
Formula Vintage
Race Season.
Yet another attraction will be a VSCC AutoSolo at Silverstone taking place in the Outer Paddock on Saturday. The simple 'Driving Tests' competition for Pre-war cars will provide plenty of entertainment during the morning's Practice Sessions, finishing ahead of the afternoon's Racing action.
Tickets are available on the gate for both days (Children Under 16 go free). Gates will open at 8.00am, with Practice getting underway at 9.00am and Racing commencing after the Lunch Break at 1.00pm on Saturday and from 10.00am on Sunday.
CLICK HERE
for more details, including a full Provisional Race Programme and timetable for the weekend, as well as an overview of all the off-track entertainment on offer.
FOLLOW THE ACTION WITH OUR LIVE TIMING
We are delighted to announce that VSCC will again provide Live Results for our 2017 Formula Vintage season so whether you are with us at the circuit or at home, you can follow all the action as it happens.
Competitors, Spectators, friends and family are invited to visit the below website, where live results for each Practice and Race will be published live by our timekeepers. This website is accessible from PCs, Tablets and Mobiles.
http://www.theresultslive.co.uk/vintage-sports-car-club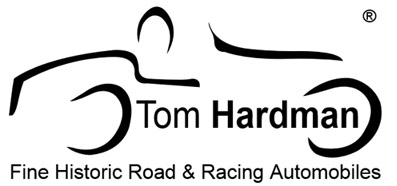 This fantastic service is kindly sponsored by Tom Hardman Ltd, who we would like to thank for his support.