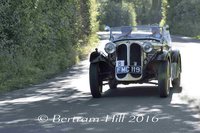 Thursday 25 May 2017
Don't miss the VSCC Targa Oultonian Summer Rally
There are late entries available for the upcoming Targa Oultonian Summer Rally, based at Oulton Park in Cheshire on Saturday 10 June.
Targa Oultonian
is a radically different event that should appeal to a wide spectrum of VSCC Members. It is a day/night rally which will allow entrants to experience rallying in the dark without the cold weather of the Measham and will also allow all involved some sleep.
The aim is to provide a less intense, more relaxed event for all (but the experts) with straight forward instructions and more time to socialise. There will be two options:
The traditional VSCC 'Competitive Classes' for regular Experts, Semi-Experts and Novices.
An enhanced 'Champagne Class' which will provide Newcomers, Beginners and those who simply want an enjoyable drive in stunning countryside, with a concise Roadbook which will (virtually) guarantee you will not get lost! (Buff Forms not required).
This is an ideal event for all abilities catering for those who are new to rallying, those who have tried rallying before but are anxious about moving into the competitive classes and the regular experts.
The Rally is based alongside the Club's Formula Vintage Race Meeting at Oulton Park (
CLICK HERE
) and will provide Members with a full 'Vintage Weekend'. Entrants may also compete in the Oulton Park Autosolo (
CLICK HERE
) or
Cheshire Life
Concours (
CLICK HERE)
earlier in the day.
Entrants to the Rally will receive two tickets to the Race Meeting included in their entry fee.
Entry Fee:
£85.00 (including food/refreshments throughout the day/night for two – additional passengers can order food at £15.00 per head, payable at Signing-On).
Entry Deadline extended until midnight on Sunday 4 June
Download Regulations and an Entry Form or enter online from the event page (CLICK HERE) – remember you will need to know the Buff Form number of the car you wish to enter and have a current payment card registered with the Club to use the online entry facility (a Buff Form is not required for the Champagne Class).
Contact the Competition Department now on 01608 644777 (ext 4, 5 or 6) or email andrew.tarring@vscc.co.uk
for more information.
For any further details regarding the event itself please contact Clerk of the Course, Martin Jelley, on 01704 507663 or
m.jelley145@btinternet.com
If you have not taken part in a VSCC Rally for a few years, or have never entered one before, of if you a regular competitor or if you're looking for a fun-filled family day out this year, this event is for you – come and have a go!