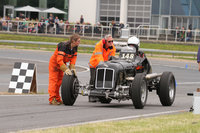 Wednesday 12 July 2017
Sue Staveley – Funeral Announcement
Sue's funeral will be held at All Saints Church, Weston Longville, Norfolk on Monday 24 July at 2.00 pm.
It will be a celebration of Sue's life and will continue, after the service and burial, in the Parson Woodforde opposite.

We hope that as many Competitors, Marshals and friends as possible will come along. Marshals in their 'oranges' will be very welcome and we hope that many will arrive in Vintage and Classic cars with a dedicated parking area to give a send-off befitting a dedicated 'petrol head'.

Please come along and, also, join us at the Parson Woodforde afterwards.