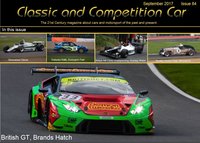 Monday 11 September 2017
Classic and Competition Car - September 2017
The September Issue of Classic and Competition Car is now available to download, including a report from the VSCC Formula Vintage race meeting at Mallory Park, and the VSCC short course hill climb from Prescott.
This month's issue also features action from the Silverstone Classic, the British GT Championship from Brands Hatch, the Rainworth Skoda Duckeries Rally from Donington Park and more.
Visit
www.classicandcompetitioncar.com
You can also now follow us on Twitter using @classcompcar or view our Facebook page Classic and Competition Car.