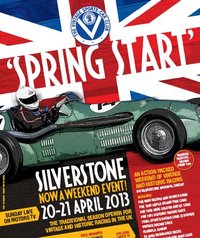 Friday 29 March 2013
The start of British Summer Time sparks a final flurry of entries for the 'Spring Start' Race Meeting at Silverstone
The British Spring may be a little slow in its stride this year, but on 20-21 April it will have firmly arrived as over 300 Vintage and Historic cars convene for the Vintage Sports-Car Club's 'Spring Start' Race Meeting at Silverstone, marking the start of the new Vintage and Historic Racing season. As part of the new two-day format, all Sunday races will be televised live on Motors TV, with opportunities for all drivers to perform for the cameras; the meeting will surely be one of the highlights of racing year.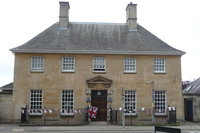 Thursday 28 March 2013
VSCC Office Easter Closure 2013
The VSCC Office is closed from 5.00pm Thursday 28 March 2013 until 9.00am Tuesday 2 April 2013 for the Easter Holidays.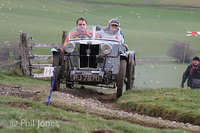 Tuesday 26 March 2013
Last chance to enter the VSCC Scottish Trial, Saturday 13 April
With three events already in the books for 2013, don't miss your last chance to compete on a VSCC Trial before the mid-season break. The entry deadline for the Scottish Trial, taking place on Saturday 13 April has been extended to 12 noon on Monday 8 April, with Competitors Instructions due out soon after.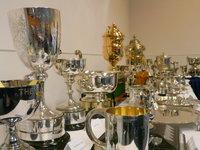 Monday 25 March 2013
VSCC Awards Dinner and AGM Takes off at East Midlands
Despite the appalling weather at the weekend, hundreds of VSCC Members attended the inaugural Annual Awards Dinner, Annual General Meeting, Marshals Dinner and various marshalling forums over the weekend at the Radisson Blu Hotel near to Donington Park even though the nearby East Midlands airport was closed for much of the weekend which put many people off travelling.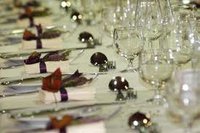 Friday 22 March 2013
Awards Dinner, AGM and Marshals' Dinner is on!
The VSCC Club staff have enjoyed a clear run up to the Radisson Blu hotel near East Midlands Airport despite the poor weather conditions and would like to promote the fact that this weekend's planned social functions at the hotel are very much going ahead.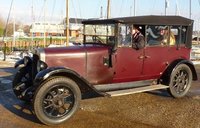 Friday 22 March 2013
Member's Car Surprise Restoration to feature on 'Cars SOS' TV Programme
VSCC member, Graham Wadeson of Suffolk, had the surprise of his life recently when his 1928 12/4 Austin Clifton Tourer was restored without his knowledge.
Unfortunately various circumstances, especially his wife Valerie having a stroke 12½ years ago, meant that Gusty, as she is called, had been mothballed in her garage, and future use of her was very uncertain.