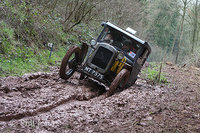 Monday 04 March 2013
Last Call for the VSCC Herefordshire Trial, 16/17 March 2013!
Following the Club's visit to the Peak District for our annual John Harris (Derbyshire) Trial this past weekend, members are reminded that entries close for the Club's next Trial, the Herefordshire (16/17 March) the end of day today, Monday 4 March.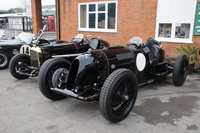 Friday 01 March 2013
Star Cars Announced for Showcase Event. Brooklands Double Twelve Motorsport Festival
Brooklands Museum and the Vintage Sports-Car Club have released advance details of some of the star acts for this year's Brooklands Double Twelve Motorsport Festival on 15-16 June. At the official Press Launch for the event held yesterday it was announced that the Double Twelve Speed Trials sprint competition to be held on the Mercedes-Benz World circuit on Saturday 15 June will include a special class for the BMC Mini Cooper S, which was launched 50 years ago. The Cooper S had already been listed as a star class for the Double Twelve Driving Tests to be held on Sunday 16 June.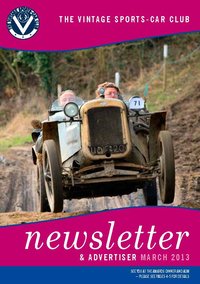 Thursday 28 February 2013
March Newsletter
March Newsletter Now Available to Download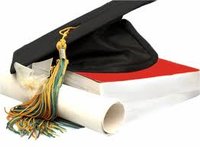 Wednesday 27 February 2013
A Northern Initiative : Developing links with your local College or University Engineering Department
'Oop in darkest Lancashire another 'cunning plan' is in its early stages, the idea of Howard Arthur of the
Preston & District Vintage Car Club
who are exploring links with the Motorsports Department at Myerscough College, Preston.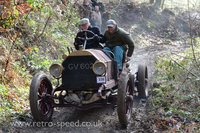 Tuesday 26 February 2013
Exmoor Fringe Trial Final Results now live
Results from the Exmoor Fringe Trial held on 16 February are now final and live.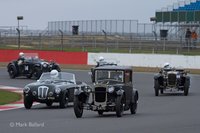 Monday 25 February 2013
Dudley Sterry wins tough VSCC Pomeroy Trophy
Dudley Sterry won one of the toughest Pomeroy Trophy competitions in recent memory at a sub-zero Silverstone on Saturday 23 February. Renowned in motorsport circles as a tough event, this year's Pom' posed a stiff challenge to competitors and marshals as snow storms whipped across the National Circuit and a wind chill of -8oC was recorded. The conditions meant in was particularly tough for the twenty five competitors in open Pre-war sports-cars and drivers of Post-war roofless cars.