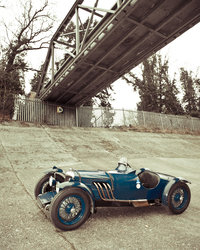 Thursday 31 January 2013
Brilliant to be at Brooklands
Vintage Sports-Car Club members are revered in motoring circles as a hardy bunch; they simply can't wait to get their Pre-war cars back in action after the winter break (save those hardy souls who have already braved the cold for our overnight Measham Rally in early January) and consequently a superb entry of nearly 70 of the VSCC's best will be in action this Sunday (3 February 2013) on the hallowed turf at Brooklands Museum in Surrey for the New Year Driving Tests.
Wednesday 30 January 2013
FIVA Announces Old Vehicle Charter
Turin Charter officially comes into force
This policy paper highlights the cultural and historical importance of the automobile and advocates the responsible treatment of historical vehicles. These principles and guidelines provide support for owners of historical vehicles in the use, maintenance, repair and restoration of their vehicle. The charter is a landmark document, recognised worldwide. It is FIVA's reaction to demands from international political organisations such as the EU Parliament and UNESCO, joining the ranks of the Barcelona Charter for the protection of historical ships and the Riga Charter for the protection of historical railways.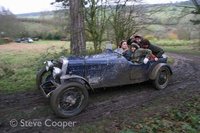 Wednesday 30 January 2013
VSCC 2013 Trials Season is go!
We are now accepting entries for the Club's first four Trials of the year so make sure you don't miss out and submit yours now!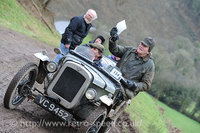 Tuesday 29 January 2013
Exmoor Fringe Trial, Saturday 16 February – A Call for Marshals!
The Vintage Sports-Car Club is heading to the South-West region soon for our celebrated annual Exmoor Fringe Trial and we still require a number of volunteers to help run the event.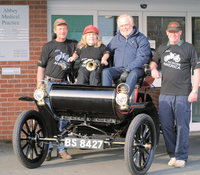 Monday 28 January 2013
Across the USA in a 1904 Oldsmobile
On 13th April 2013, VSCC member Joy Rainey and her Team will leave Oceanside, California to drive coast to coast across the USA, a distance of just under 3000 miles in a 109 year old Oldsmobile to raise funds for Cancer Research UK.
Joy, better known for piloting faster cars, has successfully participated in speed hill-climbing events throughout the UK for many years, and recently long-distance rallies with her partner and co-driver Trevor Hulks.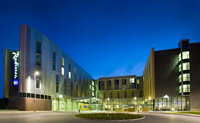 Thursday 24 January 2013
An Invitation to attend the VSCC Awards Dinner, Friday 22 March 2013
Club members and guests are invited to attend the first VSCC Awards Dinner celebrating the achievements of Club Members throughout the 2012 season. As well as a fine meal, you will be able to enjoy the company of Club members, the presentation of the illustrious awards and an exclusive interview with our high-profile guest of honour from the world of Historic Motorsport (details to be confirmed very soon). Motorsport commentator, Ian Titchmarsh, will compere the evening that will be held in the Wheatcroft Suite at the
Radisson Blu Hotel
, Castle Donington, Derbyshire which is a stones throw from Donington Park Racing Circuit, East Midlands Airport and Junctions 23A/24 of the M1 Motorway.