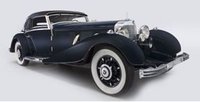 Friday 15 November 2013
MERCEDES CABRIOLET OWNED BY FRENCH ACTOR, HENRI GARAT, JOINS THE BONHAMS SELECTION AT THE GRAND PALAIS
TWO STUNNING MERCEDES-BENZ CARS FROM LONG TERM PRIVATE OWNERSHIP ARE ADDED TO THE PARIS SALE LINE UP

Not seen on the market for more than 40 years, the 1935 Mercedes-Benz 500K Cabriolet A was delivered new to Parisian actor, Henri Garat at his hotel in Berlin and will feature at the Grand Palais auction as part of Retromobile Week in Paris on 6 February 2014.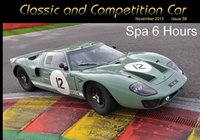 Thursday 14 November 2013
November Classic and Competition Car
The November issue of Classic and Competition car is now on-line and available to download.
It features reports from Spa Classic 6 Hours, British GT Finals at Donington, HSCC season finals from Silverstone and the Birkett 6 Hours Relay plus loads more, all free.
Download at
www.classicandcompetitioncar.com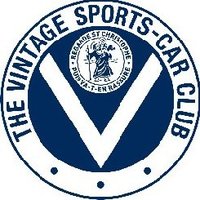 Wednesday 13 November 2013
Renewals for VSCC 2014 Subscriptions Now Open – Rates Held!
The VSCC is delighted to announce that renewals for 2014 subscriptions are now open and will be held at 2013 rates making membership of the VSCC even better value. To renew your subscription for 2014, simply log in and click on Your Membership in Account Summary.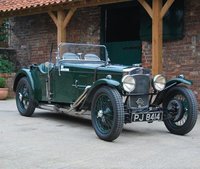 Tuesday 12 November 2013
VSCC at Bonhams Harrogate Auction
The annual Bonhams Auction at the Great Yorkshire Showground, Harrogate will take place tomorrow, Wednesday 13 November.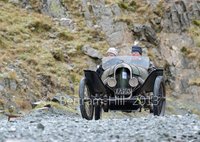 Monday 11 November 2013
Lakeland Trial Provisional Results
The annual VSCC Lakeland Trial was held on Saturday in testing conditions as the first of the winter snow fell on the Northern Lakes. Snow and hail storms battered the Bassenthwaite area near Keswick as half of the 100 entrants arrived for morning scrutineering but the valiant marshals officiating the six hills in the forest kept the show on the road, and spirits amongst the competitors high as they tackled some thrilling sections.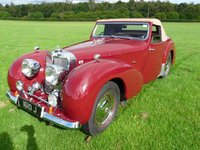 Friday 08 November 2013
Cars with Royal and TV Provenance in the spotlight at Bonhams Harrogate Sale
Bergerac Car and Countess of Wessex's First Car For Sale

Bonhams offer car lovers a treat at their Harrogate sale on Wednesday 13 November listing cars with fascinating histories and celebrity former owners. The 1949 ex-Jim Bergerac convertible Triumph Roadster 2000 from the BBC TV Series of the same name, registration no. 1610 J, is estimated to sell for £25,000-30,000.