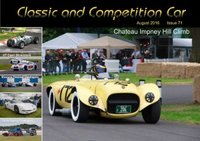 Monday 15 August 2016
Classic and Competition Car – August 2016
The August Issue of Classic & Competition Car is now available to download, including coverage of our own Shelsley Walsh Vintage Hill Climb last month, hosted by the MAC.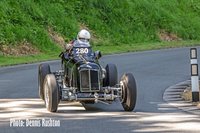 Thursday 11 August 2016
VSCC Prescott – the pinnacle of the Vintage motorsport year again
The VSCC's annual Prescott Vintage Speed Hill Climb summer weekend proved another roaring success, with thousands of Pre-war enthusiasts descending on the famous Gloucestershire venue for three days of top class Hill Climb competition and host of other Vintage attractions from Friday 5 to Sunday 7 August.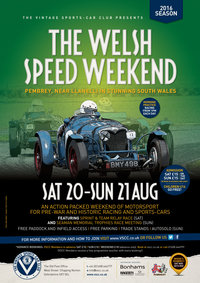 Tuesday 09 August 2016
VSCC Welsh Speed Weekend, Pembrey, 20/21 August – Entries for Sprint/Race Meeting Closed; AutoSolo Deadline Extended!
After a year hiatus in 2015, we are delighted to be returning to Pembrey for our Welsh Speed Weekend on 20/21 August, incorporating Sprint, Team Relay Race and Seaman Memorial Trophies Race Meeting, as well as our first Pembrey AutoSolo – a new addition for this year.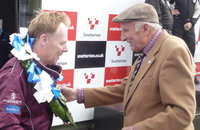 Monday 08 August 2016
Jack Sears (1930 – 2016)
The VSCC are deeply saddened to hear of the passing of legendary British racing driver and Club Member, Jack Sears.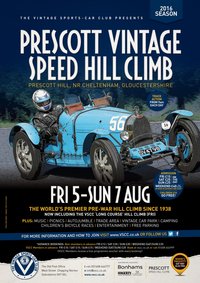 Thursday 04 August 2016
VSCC Prescott is go – the best in Vintage motorsport this weekend
The Vintage Sports-Car Club return to the idyllic surroundings of rural Gloucestershire this weekend for our traditional date of the first weekend of August at the home of the Bugatti Owners' Club – the historic Prescott Vintage Speed Hill Climb.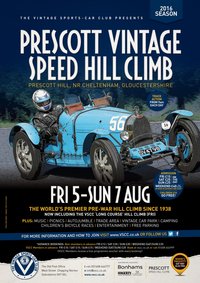 Wednesday 03 August 2016
Vintage Prescott – more than just a Hill Climb!
Whilst our two motorsport competitions will rightfully take centre-stage this weekend at Prescott, there are plenty of additional attractions away from the track to keep Spectators of all ages entertained from Friday to Sunday!