EVENT INFORMATION
The New Year Driving Tests
Brooklands Museum, Weybridge, Surrey KT13 0QN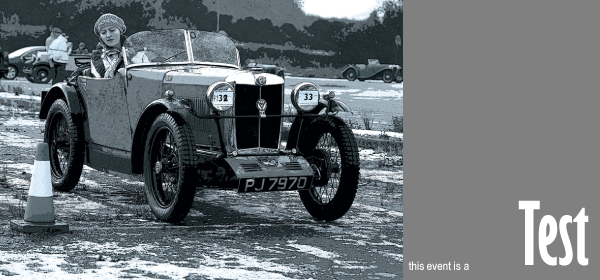 The home of British Motorsport and Aviation once again provides the most idyllic backdrop for the VSCC and their New Year Driving Tests, preceded by the traditional Brooklands Film Night and Dinner on Saturday evening. Local Club Member and Director, Kevin Lee has devised tests to reward accuracy whilst providing a fun and interesting challenge for all of those taking part. This event is a great social occasion for Competitors, Spectators and Marshals alike, so why not come along and join us at this most historic of venues.

Brooklands Film Night, Saturday 28 January

Tickets, including 2-course dinner, are available from Ann Watson, Brooklands Museum, Brooklands Road, Weybridge, KT13 0QN (phone 01932 857381 Ext 243) at a cost of £25.00 per head (£15.00 for under 16s), SAE and notification of vegetarian or other special requirements requested.

PLEASE BOOK EARLY TO AVOID DISAPPOINTMENT and to avoid holiday postage delays.

Films to be shown will cover the usual broad spectrum of Brooklands and other subjects. The Bar will be open from 6.00pm, with dinner at 7.00pm, followed by films, with close at approx 10.30pm, bar service available throughout.

The Motoring Village of the Museum will remain open from its normal closing time of 4.00pm until 6.00pm for those attending the Film Night.
Images for The New Year Driving Tests