EVENT INFORMATION
Prescott Speed Hill Climb
05 Aug 2017 - 06 Aug 2017
Prescott Hill, Gotherington, Cheltenham GL52 9RD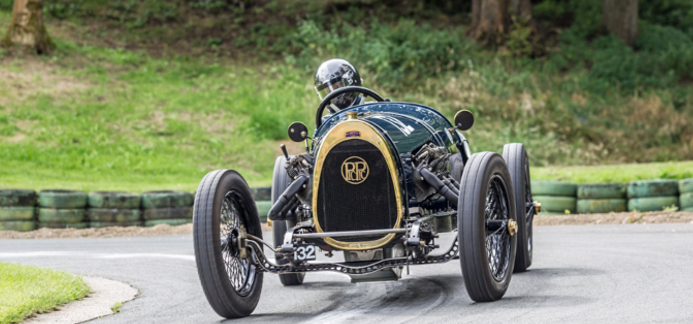 The undoubted 'jewel in the crown' of the Vintage Sports-Car Club year, our long-established Prescott Speed Hill Climb takes its traditional slot on the first weekend in August, with 250 Pre-war Racing and Sports-Cars taking on the challenge of the traditional 880 yard course – first established by the VSCC in 1938.
The weekend will follow the regular 2-day format with Practice taking place on Saturday and Timed Runs towards the competition on Sunday.
Please note that the Friday 'Long Course' Hill Climb will now take place as a standalone event on Saturday 23 September (
CLICK HERE
for more information).
As well as the thrilling action on track there are always plenty of other attractions for the whole family to enjoy. Spectators are free to explore the Competitor Paddock, where they can get up close to the competing machinery and drivers, whilst the annual gathering of Spectator Pre-war Cars, each year featuring a special Anniversary display, is world-renowned and always worth the entry price alone. Revered International Auction House and Club Sponsors, Bonhams, also provide an impressive display of exquisite cars from their upcoming sales.
Our fine Trade Village and 'Autojumble' will surely offer something to suit all interests, whilst the traditional Children's Entertainment Area, including 'giant' games and Sweet Stall, ensures there will be plenty to keep our younger enthusiasts occupied. With on-site camping available, traditional Jazz Band parade, Bicycle Races (see below) and plenty of catering facilities available on site throughout the weekend, the event is the ideal family day out!
BICYCLE RACES & 6th ANNUAL PEDAL-CAR GRAND PRIX (SUNDAY 6 AUGUST)
The highlight of the year for so many of the Club's younger (and older!) Members, Sunday's activities at VSCC Prescott get underway with the traditional and ever-popular Bicycle Races supported by long-time Club Member, Simon Diffey of Merry Printers.
These will take place at approximately 9.00am, with the usual races for Under 10s, Under 16s and an All-Comers event (depending on demand), and don't forget the Children's Pedal Car Grand Prix (for Children Under 16) which is strictly restricted to pedal power only (no motorised or battery powered cars). Weird and wonderful cycling machinery is encouraged and there will be the usual prizes for this year's race winners, as well as special edition T-Shirts provided by Tom Hardman Ltd, and sweets/drinks for all participants.
If you would like to take part, assemble from 8.00am with any type of bicycle (or pedal car) in the Paddock for Signing-on and 'Scrutineering' (don't forget to bring a helmet and a parent/guardian for any Under 18s).
If you do not have a bicycle with you, do come along early to watch; you are sure to see some wonderful machinery, from Penny Farthings to tandems to unicycles!
Please support the Bike Races this year! They are great fun and you can have fun practising before the event in the campsite, but please,
no bicycles in the Paddock or on the Hill Climb course
other than before assembling for Sunday's races.
DON'T FORGET:
ALL
BICYCLE RACE ENTRANTS MUST WEAR A HELMET PLEASE
Images for Prescott Speed Hill Climb