EVENT INFORMATION
Formula Vintage - Round 1 - Silverstone
21 Apr 2018 - 22 Apr 2018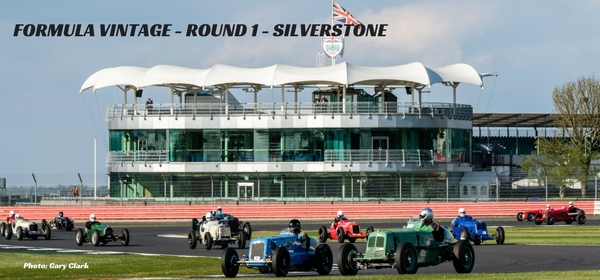 The opening round of the 2018 Formula Vintage Championship will take place on the national Circuit of Silverstone over the weekend of 21 and 22 April. The action packed two day event builds upon the history of the traditional Sprint Start Race Meeting and VSCC racing at Silverstone which dates back to April 1949.
Almost seventy years later, the April Race Meeting at Silverstone remains one of the VSCC's most popular events with spectators and competitors alike.
2017 saw the debut of Formula Vintage, the new name for the VSCC Race series and Silverstone are very excited to be hosting the first round of 2018's Formula Vintage, which will undoubtedly be another exciting display of Pre-war and Historic trophy races highlighting the very best of Pre-war racers, on the National Circuit.
With free access to the paddock there couldn't be a better time to get your historic fix.
For those wanting more, we'll also have plenty of off-track vintage entertainment planned to keep the whole family occupied.
The following races will be featured on the below days - please note race order is yet to be confirmed.
Saturday 21st April 2018
| | |
| --- | --- |
| Std & Mod Pre-war Sports-Cars | 15 mins |
| Special Pre-war Sports-Cars | 15 mins |
| Short Scratch for Pre-war Cars | 2 x 12 mins |
| Short Handicap for Pre-war Cars | 5 Laps |
| High Speed Trial | 30 mins |
| Frazer Nash Race | 15 min |
| HGPCA | 20 mins |
| Morgan Challenge | 2 x 20 minutes |
Sunday 22nd April
| | |
| --- | --- |
| Vintage Racing Cars | 15 mins |
| Front-Engined Pre-1961 Racing Cars | 15 mins |
| Std & Mod Pre-war Sports-Cars | 15 mins |
| Short Scratch for Pre-war Cars | 12 mins |
| Short Handicap for Pre-war Cars | 2 x 5 Laps |
| 1950s Sports/Sports Racing Cars | 30 mins |
| FISCAR | 30 mins |
| HGPCA | 20 mins |
Images for Formula Vintage - Round 1 - Silverstone