EVENT INFORMATION
Castle Combe Autumn Classic
Chippenham, Wiltshire, SN14 7EY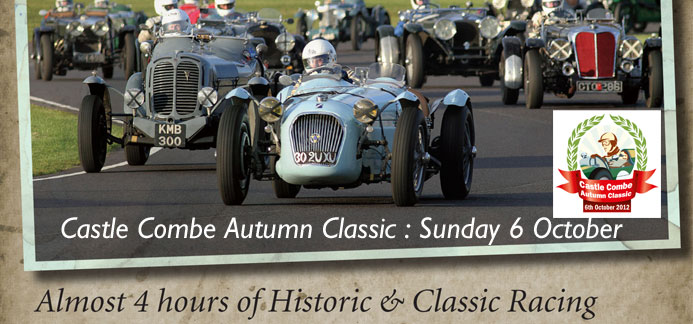 Supported by Carole Nash Insurance & Bristol Forklifts the Autumn Classic Meeting' has a wonderful, relaxed 'end of season' atmosphere and is supported by a number of other high quality grids which may well appeal to our members and fit well with our Pre-war grid, in particular, two FISCAR races for 1950s Sports-Cars, Formula Junior and Historic Aston Martins.
The Vintage Sports-Car Club fields a grid of Pre-war Sports-Cars, one of the most popular VSCC racing catagories. The competitors will be relishing the opportunity to compete for fun and close the season going out 'on top'. The majority of the grid are original cars from the 20s and 30s that are little changed from how they left the factories before going off to contest races at Brooklands and Montlhery in France. The drivers enjoy a fantastic camaraderie and share an enthusiasm for this era of car that cannot be rivalled. Their hospitality marquee travels to all of the Club's circuit racing event and provides a welcome base to swap tips and share stories of on-track conquests.
Andrew Mitchell will be the man to watch in his 1937 HRG who pipped the unusual Frazer Nash saloon of marque specialist Patrick Blakeney-Edwards. You might imagine the pretty saloon to be slow thanks to the weight of the body, but it is defyingly quick, and Patrick will be keen to settle the scores with Andrew. Further back, the larger capacity cars of John Guyatt's Talbot Lago and Jerome Fack's Brough Superior Alpine will face strong competition from David Ozanne and Keith Piper's Aston Martins, keen for a strong finish in their marquee's Centenary year.
It's a fantastic opportunity to see VSCC racers in action on the fantastic 1.85 mile circuit that the Club rarely gets the chance to visit and a full day of Historic Racing.
Spectators are encouraged to wear period clothing and there is a special parking area for VSCC members and a 'Buy One Get One Free' offer for members. Spectator tickets cost only £15.00 for two and children under 17 go free. Call 01249 782417 or go to
www.castlecombecircuit.co.uk
to book and quote 'VSCC2013' but hurry, bookings close early week begining 30 September.
Times
Parades from 12 noon, Grid Walkabout from 1pm and Racing from 1.30pm.
Highlights of the Day...
1 x Formula Junior Historic Racing Association Championship Race
1 x Historic Aston Martins Race
1 x Jaguar Enthusiasts Club, Pre 66 Jaguars Race
1 x Healey Drivers International Big Healey Race
1 x FiSCaR 50's Inter-Marque Race
1 x VSCC Pre War Sports-Cars (Standard & Modified)
1 x "FLIERS" Fifties Lightweight Sports Racing Cars race
Download the timetable
here
Download the paddock plan
here
See the Castle Combe website for further details.
Click here to visit the event page
.
Images for Castle Combe Autumn Classic