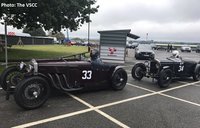 Wednesday 20 September 2017
A Successful Sprint at Snetterton
On Saturday 16th September, the Snetterton 100 Circuit was host to a Sprint which marked the penultimate round of the 2017 Speed Championship.

The Sprint went off to a brilliant start with dry conditions and sunshine on the track in the morning. Just before all drivers had completed their practise runs, the rain arrived and Competitors were forced to break for lunch. The dry practise runs followed by very wet competitive runs made for some interesting driving, but our skilful drivers refused to be rained off and continued competing throughout the afternoon.
The Fastest Time of the Day at the Sprint was won by Jo Blakeney-Edwards in her 1929 Frazer Nash with a fantastic time of 121.54, a notable result as her win marked the first time that a Sports-Car has won the Fastest Time of the Day since Tony Jones achieved the FTD at Prescott Hill Climb in 1978, also in a Frazer Nash.
Simon Blakeney-Edwards was awarded Fastest Vintage with his 1929 Frazer Nash Super Sports with a time of 123.54 seconds.
The Fastest Young Driver of the Sprint went to Andrew Baker in his 1930 Riley Brooklands with a time of 136.10 seconds.
Despite the damp conditions, the Norfolk Tour also took place on Saturday and drivers enjoyed sights such as Old Buckenham Mill, a beautiful round tower church in Gissing, the unique landscape of The Brecks, and Old Empire Motorcycles where the proprietor Alex Sharp was on hand to show Members their current projects.
The full Sprint Results are now available to download from the Club's website (
CLICK HERE
).