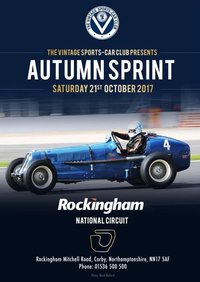 Tuesday 26 September 2017
The Final Sprint of the Season at Rockingham
This year's Autumn Sprint will be held at Rockingham's popular National Circuit in Northamptonshire on Saturday 21st October. The eagerly anticipated event will mark the final Club Sprint of 2017.

The Autumn Sprint has always been one of the most popular events of the VSCC calendar, with the welcoming and relaxed 'end of season' atmosphere in the Paddock showing the VSCC at its social best.
In addition to being the last Sprint of the year, the Autumn Sprint will also be the very first VSCC Sprint on the National Circuit at Rockingham. Drivers and their cars will compete on the 1.7 mile circuit which features some speedy straights and fast corners, as well as the particularly challenging hairpin known as the 'Tarzan'.
Not only will the VSCC be offering a full day of historic motorsport, they will also be presenting the Class Winners of the 2017 Speed Championship during the lunch break with the coveted awards on the day after the Sprint has concluded.
For current provisional Championship standings prior to the Prescott Long Course Hil Climb, please see the following links:
2017 Speed Championship Standings - by Class
2017 Speed Championship Standings - Overall
This event is free for Spectators, and Programmes will be available to buy on the day. There are numerous viewing points for Spectators to enjoy, including the easily accessible pit garage roof, as well as three viewing platforms next to the timing tower. A members lounge will be available should the weather prove inclement.
Entries are still open for the Autumn Sprint at Rockingham, and VSCC Members can enter online by clicking
here
. Entries close on Monday 9
th
October.