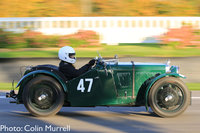 Thursday 19 October 2017
Join Us at the Autumn Sprint
Following an exciting and enjoyable Sprint and Hill Climb season, we visit Rockingham's National Circuit this Saturday for the Autumn Sprint which brings to a close the VSCC Speed activities for 2017.
We welcome you to join us on Saturday for the final Sprint of the year, and see our drivers and their historic vehicles take to the track. The Autumn Sprint promises an 'end of term' atmosphere in the Paddock, complemented by an excellent entry of Pre-war sports and racing cars in all their glory.

Join us from 12:30pm in the Apollo Suite (located on the first floor of the main Grandstand, stairwell 7) where we will be serving a complimentary lunch and presenting the Class Winners with their awards for the 2017 Speed Championship. We offer in advance our congratulations to all Winners, and thank all of those who have taken part in this year's Championship.

Practise runs will commence at 09:00am, followed by a lunch break, with competitive runs from 2:00pm.

There is no admission charge for Spectators, but we do encourage you to purchase a copy of the event Programme which goes towards the Club and its activites.