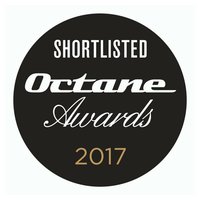 Friday 20 October 2017
VSCC Shortlisted for Octane Awards Club of the Year 2017
We are very excited and honoured to be shortlisted for Club of the Year at this year's Octane Awards!
As one of the largest and longest standing motoring Clubs in the world for both owners and enthusiasts of Vintage cars, we're very proud to have been shortlisted and recognised as an extremely active Club within motorsport. We pride ourselves on offering possibly the widest range of motorsport disciplines to our Club Members, with over 50 events taking place at 35 different locations from October 2016 to September 2017.

Additional criteria for Club of the Year included raising the profile and participation of historic motorsport, spreading the word and enjoyment of historic cars to the public, furthering the cause for Club Members and the international historic movement in general, and more.

Following an exceptionally busy season, being shortlisted as Club of the Year is a great honour, and we look forward to the Awards Ceremony being held in London in November.

While the team at The Old Post Office do a fantastic job, we would also like to thank all of the Marshals, Volunteers, and of course Club Members who commit themselves so fully to the Club and all of its activities.