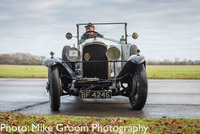 Monday 20 November 2017
Entries Extended for the Winter Driving Tests
Entries for the Winter Driving Tests have now been extended to close on Monday 27th November.
We are delighted to once again be returning to Bicester Heritage on Saturday 2nd December for the festive finale to the VSCC calendar: the Winter Driving Tests.
Click
HERE
to enter the event.
As well as being a wonderful social event, the ever-popular event is a great way to top up your points towards the Annual Aggregate Trophies - and provides the ideal opportunity to buy some fabulous VSCC Christmas presents!
Competition licence medicals will once again be available this year in the 123 building. To pre-book please click
here
.
Following the Winter Driving Tests, this year's Race and Speed Forum will also be taking place at Bicester Heritage at 2pm. This free-to-attend forum for past, present, and future Race and Speed competitors will offer drivers a friendly and open environment to share their experinces over the year.