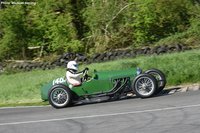 Tuesday 08 May 2018
The Speed Championship Opens With Bang at Curborough
The 2018 Vintage Sports-Car Club's Speed Championship – Round 1 – was held at the Curborough Speed Trials on Sunday 6 May. With over 100 Pre-war cars taking to the track, the packed banking viewing area and busy Paddock made for an enjoyable atmosphere filled with spectators all enjoying the glorious weather over ice-creams and fantastic Vintage Sprinting. The on-track action proved to be thrilling, affirming why this is such a popular over-subscribed event.
With Ian Baxter in his 1937 Alta 61 taking The Curborough Trophy with the Fastest Time of The Day, an impressive 35.76 seconds equalling James Baxter's Pre War record for the course, set in 2011, but shattering the Mac Hulbert E.R.A. record from 2013. More impressive still was Tony Lees' securing of the Vintage Record in 36.84. This beat the 1997 record set by the late Freddie Giles in the exact same car - so, "Cognac" reigns on in Tony's hands.
Other Awards on the day were received by Tom Walker in his 1930 Amilcar Hispano Special for Fastest Vintage with a time of 36.31 and Charlie Martin received Fastest Young Driver Award in C.J.Maeers 1930/28 Morgan Special gaining a time of 38.35. The 2017 Speed Champion, David Furnell in 'The Toy', a 1930 Austin 7 Special, started his 2018 Speed Championship run in fine form obtaining a time of 47.33.
A fantastic, exhilarating day unfolded with the VSCC's Speed Secretary, Rachael Watkins commenting "What a great start to the Championship, we couldn't have asked for better weather and a better crowd of spectators all enjoying the on track excitement."
We look forward to seeing if Ian Baxter continues his dominance with the Fastest Time of the Day at Round 2 - Wiscombe Park this Sunday or will we see another Competitor shuffling the top spot making the 2018 Speed Championship as hotly contested as 2017's?
Results will stay Provisional for 7 days until going final.
For further information on Round 2 – Wiscombe Park
CLICK HERE