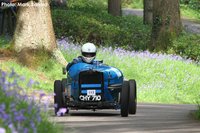 Friday 11 May 2018
Round 2 of the Speed Championship returns to Wiscombe Park
Following a fantastic start to the Vintage Sports-Car Club's 2018 Speed Championship last weekend at Curborough Speed Trials, Round 2 heads to the picturesque Wiscombe Park.
Nearly 130 Pre and Post-war cars will be zipping through the bluebell filled woodlands; will this prove to be an influential Round in the 2018 Championship?
Last year saw Terry Crabb in his 1937 ERA R12C dominating, securing the Fastest Time of the Day with 47.94 seconds, sadly he will not be in attendance this year to defend his title, leaving the door open for his fellow Competitors who were biting at his ankles in 2017. Could this nip come from Greg Lerigo in his 1932 Riley Special who took third place overall and Fastest Sports-Car, or from Neil Thorp in his 1936 Singer Spikins 'The Bantam' which has proven to be hugely successful in Sprints and Hill Climbs?
The Vintage Sports-Car Club is also thrilled to be welcoming members of Colyton Grammar School's "Hawk Racing" at Wiscombe Park Hill Climb. Playing an active part, and indeed finishing 3rd in the UK's "F1 In Schools" initiative, Hawk Racing are looking to lift their participation to a global one for a Singapore Event in September and are surely strong candidates for glittering futures in the higher echelons of motor racing in years to come. The Paddock at Wiscombe is perfectly suited to welcoming such a group and the Club's Speed Secretary Rachael Watkins says: "We are delighted to welcome such a talented and enthusiastic group of local students to our event, who will be taken under the wing of our Past President Tony Stephens, who will introduce them to our Competitors. We hope they have an enjoyable day and wish them luck in Singapore."
Practice kicks off the proceedings at 9am and competitive runs at 1pm. With a number of catering facilities onsite serving hot and cold food as well as a fantastic coffee wagon and ice cream van, Spectators are sure to enjoy the wonderful setting of this superb Event with the whole family.
Entry on the gate is £12 with under 16s going for free.
Click to find out more about the event.