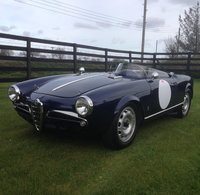 Monday 11 February 2019
VSCC - All Set For The 64th Pomeroy Trophy This Weekend.
This year's Pomeroy Trophy sees the 64
th
edition of this historic event take to the Grand Prix Circuit at Silverstone having attracted 110 entrants all ready to take on a series of tests, including the famous
'Wiggle Woggle'
.
Amongst the eclectic group of entrants
is a 1920 E-type
(the oldest car running in this year's event), a 1934 Aston Martin Mark IIL, a 1956 Alfa Romeo Giulietta Spider and a 2017 Citroen C1.
In addition to the Wiggle Woggle, competitors will also be challenged by the Braking Test, Standing Quarter Mile into Flying 250m and the 40 minute 'blind' sessions which sees the competitors attempt to achieve a predetermined number of target laps.

Spectator entry is free for this historic event, and with weather forecasts predicting 0% chance of rain and clear skies its going to be a great day out. Gates open at 8am.

And don't forget the suitcases!
As with all Pomeroy events since the early 1990s' all entrants will be required to properly stow two suitcases (to the FIA measurements: 60cm(25.6") x 40cm(15.7") x 20cm(9.8") – failure too will result in a penalty.