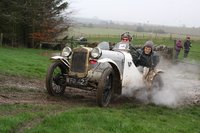 Wednesday 19 December 2012
Annual Trials Trophies 2012. Final scores and Cotswold Trial Report.
The final standings for the two annual VSCC Trials awards have been announced for long and short chassis cars. In general terms, the features of our trials tend to favour short, high powered, manoeuvrable cars, leaving the heavier, less nimble, touring cars at a disadvantage. Solid rear axle and chain-driven cars (Frazer Nash, GN, Trojan etc.) are perceived as having an inherent advantage and are therefore positioned with the smaller cars, even though they may exceed the long chassis minimum wheelbase of 8ft.

Frost Restoration
donated the trophy for the long chassis class (Class 2) and has supported the award since its inception seven years ago. The award for short chassis cars (Class 1), which originally covered both classes, is supported by the Club's insurance associate '
Routen Chaplin
'.
There are seven trials throughout the season, February to December, and these are the Exmoor, Derbyshire, Herefordshire, Scottish, Welsh, Lakeland and Cotswold. Trophy points are counted for up to six events, recognising that the Welsh Trial has always been restricted to Vintage and Edwardian cars only, which would leave PVT competitors under a significant handicap.
Scoring for the awards is based solely on the points achieved on the trials sections of each event, including any bonuses awarded for tests of increased difficulty, for example particular Stops & Restarts. A bonus of 25 points is awarded for completion of the Scottish event, an acknowledgment of the long travelling distance involved. Each trials section is marked out from 1 to 25 by the event organiser and his team, and the points given correspond to the mark achieved on the course.
The classes are each divided into Standard and Modified/Specials, according to the Club's Buff Form regulations. By their very nature, Standard cars are intended to be as coming from the factory and will therefore be unlikely winners in trials events, yet may perform creditably over a full season.
As a general rule, about two-thirds of the trials entry is composed of short chassis cars and a good number of these in the modified/special class compete in all seven trials throughout the season. The standard short chassis class is much less well attended, though is open to sporting cars of all types.
The smaller long chassis class has a group of about a dozen enthusiastic competitors who compete in most trials, some driving to each event. The standard class is well supported and almost exclusively Model A Fords, where competition between saloons and tourers is strong.
Past winners of the two annual trophies have been:
TRIALS TROPHY WINNERS
Year
Short Chassis Cars (Routen Chaplin Trophy)

Long Chassis Cars (Frost Trophy)

2011
Mags Diffey
Bugatti
Stuart Cooke
Morris
2010
Donald Skelton
Austin 7
Gareth Graham
Bentley
2009
David Dye
Austin 7
Jonathan Rose
Morris
2008
David Dye
Austin 7
Jonathan Miller
Chrysler
2007
Brian Emerson
Ford A
Jonathan Miller
Chrysler
2006
David Dye
Austin 7
Gareth Frank
Lea Francis
Scores coming up to the Cotswold
After the Lakeland, leading trophy contenders had completed six events and so would drop one of their scores after competing in the Cotswolds. This final event, based on the BOC headquarters at Prescott, normally has 14 sections with a potential total points score of 350. Last year was dry and there were clear rounds, so on this basis, if Don Skelton should drop his lowest score of 280 in Class 1, he would be only one point ahead of David Golightly who had an event in hand. In Class 2 Jeremy Brewster was only 166 points behind Steve White with an event less and must have felt he had the Frost Trophy within his grasp.
The Cotswold Trial
As for the Lakeland Trial, the week preceding the Cotswold was characterised by heavy rain, so much so that there was a doubt the event would run. But organiser Derek Howard-Orchard and his crew were determined to go ahead, albeit with a revised format, including cancelling four hills and bringing up a reserve section. A novel solution was to extend Bumble Bee Nest to give, in effect, two sections in one worth 50 points, separated by a stop/restart at marker 25. However, conditions worsened on the morning of the event and the hill in Prescott Orchard was cancelled and an extra short section brought in on the Paddock side of the site.
No sooner had the event started than the Hill Chief at Tunnel Vision, Mike Holland, radioed in to say that the area was unsafe as the wooden access bridge was under water. With this late cancellation, there were ten sections running, certainly enough to make a competitive day's trialling and, it seemed, just sufficient points available to keep the contest for the annual Trials Trophies alive to the very end. Whilst the day started dry, the sodden nature of the ground meant that when a moderate drizzle started in the late morning, many clay-rich sections changed character and became unclimbable. In fact, as old-stager Phil Longhurst recalled, it was like the wet trials of years ago when every point had to be fought for, and the results were not dependent on simply one or two sections over a dry course
Such was the determination of the two leading contenders for the annual Trophies, Donald Skelton (Austin 7 Special) and Jeremy Brewster (Lea Francis), that they both won their individual classes most convincingly, despite the difficult conditions. Don finished 21 points ahead of Richard Houlgate (Austin 7 Special) in the short chassis group, with a back-on-form Ron Bailey (Austin Special) following, ahead of Matt Johnston (Austin Ulster). Jon Mellor spoiling his chances by hitting a marker early on Bumble Bee, whilst Simon Price found the weather against him and this put him down a number of places.
Jeremy Brewster was 20 points in front of Graham White (also Lea Francis) in their long chassis cars; the margin would have been higher had he not clipped the gate in Maiden's Walk. Just behind was Paul Jeavons (Vauxhall 30/98), having found a spare sump after his Lakeland misfortune, followed at some distance by Steve White (Riley Ford Special). After a gap of 30 points, Ewen Getley (Bentley 3/4½) headed Richard Marsh (Morris Bullnose) and a tight group of six various marques.
Perhaps the two winners were helped on the day by their special qualities – Don has a great weight advantage in a small car, sitting almost over the rear wheels, and this really comes out on muddy right-hand corners such as in the Nigell's Navigation section, whilst Jeremy's supercharged Leaf engine can readily pull second gear on sections, giving a very high speed at the tyre tread thus helping throw off the mud. This technique is very spectacular when done just off the start line by Ben Collings in his Bentley 4½ Park Ward saloon, vigorously encouraged by his two nippers in the back.
In the standard classes, Charles Knill-Jones in the Bugatti Type 13 easily took first place from Nic Topliss in his delightful Salmson AL22, whilst behind these, Norma Carr in her shopping Austin saloon, complete with groceries in the back, equalled David Johnston in his very light, blue-printed-engined Austin Chummy.
Dennis Bingham, now fully recovered from Welsh maladies and back on form, had his crew of Cawley Seniors, stately in the rear, genuflecting to a win in the Standard class. This class was entirely composed of the same marque, last place going to Chris Williams who had supplemented his sound broadcasting system with a roof exhaust on the Model A Saloon that featured a small-but-perfectly-formed antiqued chimney pot.
It was good to see the ex-Ben Cox, Hamish Moffatt Brescia, now in Nick Mason's stable, back on the trials hills, driven by Ben De Chair, though awaiting a deal of mechanical attention. A welcome, familiar face was David Rolfe, who brought out his very successful MG M Type after too many fallow years, with daughter Eleanor as bouncer.
The Cotswold is the only trial that has a separate class for novice entrants, proving very popular, and this year the two winners' crews included highly experienced club members in other disciplines. Bob Thompson (Austin Chummy), over from New Zealand, won with guidance from son Ben as bouncer, and David Baker came second in his aero-engined Amilcar CGSS.
The Annual Trophies
Thus it was that the weather decided the outcome. Scores weren't high enough to change the order and Donald Skelton won the Routen Chaplin Trophy (for short wheelbase cars) convincingly. His only competitor, David Golightly (Model A Ford Special), was roundly beaten on the day but comes a worthy second. Jeremy Brewster, nervous after his mechanical failure on the Exmoor with a burst supercharger, had a trouble-free day and overtook Steve White for the Frost Trophy after Steve had led throughout the season. Steve nevertheless took a hard-earned runners-up place.
Austin 7s took the next seven places for short chassis cars, with Richard Houlgate finishing strongly. Other places were determined by scores from previous events as Cotswold points were low.
In Class 2, the first three places for the Frost Trophy were in touch but then came a large gap to Tim Kemp (Austin 20HP), ahead of Tim Dutton (Ford Model A) and Dennis Bingham who were equal on points. Dennis Bingham is the top performer in a standard car.
Final Scores – Top Twenty
TRIALS TROPHIES 2012 – Final Scores
The Routen Chaplin Trophy

The Frost Trophy

1
Donald Skelton (6)
1938
1
Jeremy Brewster (6)
1719
2
David Golightly (6)
1859
2
Steve White (6)
1679
3
Keith Dobinson (6)
1828
3
Paul Jeavons (6)
1598
4
Alan Bee (6)
1801
4
Tim Kemp (6)
1289
5
Matthew Johnston (6)
1740
5=
Tim Dutton (6)
1238
6
Richard Houlgate (6)
1704
5=
Dennis Bingham (6)
1238
7
Jonathan Mellor (6)
1699
7
Graham White (4)
1161
8
Ronald Bailey (6)
1697
8
Paul Martin (5)
1118
9
Stewart Rich (6)
1682
9
Ben Collings (5)
1063
10
Phil Longhurst (6)
1666
10
Gaynor White (4)
1028
11
Simon Price (6)
1639
11
Dougal Cawley (5)
921
12
Andrew Fox (6)
1619
12
Steven Smith (5)
917
13
David Leigh (5)
1378
13
Jonathan Miller (3)
866
14
Edward Williams (4)
1304
14
Michael Scott (4)
861
15
Keith Hill (5)
1302
15
Michael Power (4)
855
16
Simon Blakeney-Edwards (4)
1246
16
Tim Llewellyn (5)
840
17
Stephen Fathers (5)
1233
17
Andrew Staples (4)
822
18
Louise Bunting (4)
1209
18
Roger Collings (4)
814
19
John Fort (4)
1208
19
Jeremy Holden (4)
766
20
Alexandra Milne-Taylor (6)
1176
20
Ewen Getley (3)
735
Figures in brackets give number of events counting to scores
For comparison, here are leading scores for cars in the short and long chassis Standard classes, 1a and 2a, with events counted:
TRIALS SCORES 2012 – Standard Classes
Class 1a
Class 2a
1
Tom Walker (4)
822
Dennis Bingham (6)
1238
2
Charles Knill Jones (3)
815
Dougal Cawley (5)
921
3
David Rushton (3)
711
Steven Smith (5)
917
4
David Johnson (4)
617
Tim Llewellyn(5)
840
5
Charles Gillett (2)
416
Andrew Staples (4)
822
Many thanks to Peter Livesey for his detailed end of season report and for all his reports throughout the 2012 trialing season.
Photo: Phil Jones.
Caption: Donald Skelton gets the Routen Chaplin Trials trophy in the bag for 2012 with an excellent drive on the Cotswold Trial in his Austin 7