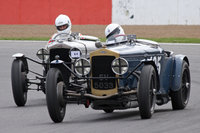 Monday 23 September 2013
Last Man Standing as Owner – Driver –Mechanic Awards Concludes this Sunday at Snetterton
A full grid of Standard and Modified Pre-war Sports-Car Racers are relishing this coming Sunday's Redgate Mug Race at the Vintage Sports-Car Club's Seaman Memorial Trophies Race Meeting at Snetterton, the final one of the programme that counts towards their aggregate Results for 2013. Only an extraordinary turn of events will deny last year's winner, Ian Standing another title thanks to more top class performances in his 1929 Riley Brooklands. He goes into Snetterton with a giant killing lead of 13 points over his nearest rival, 1929 Frazer Nash Super Sports driver, Charles Gillett.
Season long rivalries come to a head in the race with Charles the lynchpin as he leads the 1101-1500cc class. With an 18 points lead over HRG racer Andrew Mitchell, the duo will renew their rivalry on-track this weekend. Last time out at Pembrey, Andrew held off the fast-charging Frazer Nash Super Sports for an impressive win by a mere 0.16 seconds. Also joining the last muster is fellow HRG racer, Will Mahany, flying in from his work base in the Caribbean to contest this final hurrah, his speedy HRG is the hot tip for the win. The final man looking to get revenge on Gillett is Fred Wakeman who enjoyed a thrilling wheel-to-wheel dice with him at our Silverstone 'Spring Start' in a similar Frazer Nash Super Sports.
Adam Painter has a busy afternoon in store in his Maserati 4CS, as he defends his lead in the 1501-3000cc class and drives in the inaugural Standard and Modified Pre-war Racing Cars event. Mark Brett should net the large capacity over 3001cc class with his nearest rivals waning as he accrues some excellent results in his rare Ballamy Ford V8 Special.
The Standard and Modified Sports-Cars Race is the first race in a 12 event programme on Sunday 29 September. It gets underway at 1.00pm following morning practice. The programme features races for Pre-war cars, Pre-1961 front-engined Grand Prix Cars, 1950s Sports Racing Cars and F3(500).
The Owner-Driver-Mechanic award recognises performances in Vintage Sports-Car Club Standard and Modified Pre-war Sports-Car races, drivers and friends enjoy camaraderie and hospitality at all events in a bespoke marquee.
Tickets cost £17 on the gate and children aged 13 years and under go free. There are lots of off-track spectacles including a Vintage steam bus, Classic and Vintage car park, period jazz band and cream tea tent. Snetterton is 10 miles north-east of Thetford on the A11 from London to Norwich. Coming from the south, leave the M11 at junction 9 and follow the A11. From the north or west, use the M11/A11 and join the A11 after Newmarket.
For more details
click here
or see
www.snetterton.co.uk