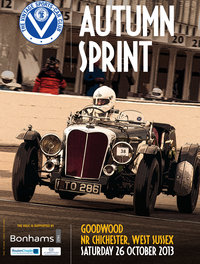 Monday 21 October 2013
Last Chance to Go Vintage in 2013 at Goodwood this coming Saturday
As Autumn leaves fall with vigour, Vintage Sports-Car Club members are busy preparing their Sprint cars for the final time this year ahead of this Saturday's Autumn Sprint, at Goodwood Motor Circuit in West Sussex.
The capacity entry of Sports and Racing cars has a phenomenal line-up of Pre-war machines across the 16 classes, which will provide interest for all. The diminutive Austin 7's have an excellent representation; Graham Beckett, the Club's Chief Judge, takes a break from pit wall duties to drive his 1930 Sports model. Brothers James and Andy Baker share the family Riley Brooklands and go head-to-head in Class 1 against David Lamb and Keith Pointing's similar models.
Incoming Club President and Riley faithful, Tim Kneller, puts his allegiance to the Blue Triangle to one side and joins the 'Chain Gang' with a drive in fellow director, Geoff Smith's 1929 Frazer Nash Super Sports.
Harry Colledge and Annabel Jones fly the Vauxhall 30-98 flag for the final time at a VSCC Circuit event in 2013 as the model's centenary year comes to a close. The successful Pembrey Pre-war Sports-Car Team Race duo of Jo Blakeney-Edwards (Frazer Nash Shelsley), and Dudley Sterry (HRS Sports) are re-united in Class 10, but this time running head-to-head for class honours.
There is a fabulous four-way battle of Bentley 3/4 ½ litre models in Class 11 featuring a share between brother and sister, Toby and Rachel Kirkby, plus Bentley specialists, Ewen Getley and Ben Collings. Interesting Austin 7 Specials feature in Class 13 such as the Brooklands Austin 7 Mrs Jo-Jo of Jeremy Way, Matt Johnston's Austin/ MG LA Special and the Wilton sisters who share their single seater Kaye Petre replica.
Three superb Edwardians will dominate Class 16, with the trio of John Dennis's 1907/16 Berliet Curtiss, Andrew Howe-Davies's 1911 Scat Racer and Tony Lees's 1913/18 Vauxhall Viper Special braving the Autumn chill for one final circuit swansong.
Highlight of the entry, is undoubtedly three ERAs; it will be a treat to see Terry Crabb's ERA R12C, Ben Fidler's AJM1 and James Baxter's R4A out for one final event before they are tucked up in their garage for 6 months before the 2014 season starts, the ERA marque's 80
th
Anniversary year.
All are welcome to come and spectate at the event, which sees morning practice commence at 9.00am, followed by competitive runs at 1.30pm, cars will be in action until approximately 4/5pm.
Goodwood is situated 2 miles north of Chichester, only 60 miles from London, 30 miles from Brighton and Southampton. Follow the brown chequerd flag tourist signs from the A27. The Postcode is PO18 OPH. Entry is free to all, but please purchase an event programme for £3. There is a classic car park on the outside of the circuit and visiting Pre-war cars will be parked in the centre of the paddock. The Club Display will be in attendance taking Regalia orders and offering Christmas Cards for sale, there will be a small number of other traders in attendance too.
For further information
click here