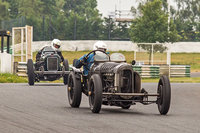 Friday 25 October 2013
GN Parker Racer, Justin Maeers Nets 2013 Club Championships
Justin Maeers's dedication and hard work to compete at all five of the Vintage Sports-Car Cub race meetings in 2013 in his infamous 6 litre 'Parker' GN has paid off as he wins both of the Club's Racing Championships.
The 1926 chain-drive Vintage Special, running a quirky Cirrus aero-engine, requires knowledgeable maintenance, so it is testament to Justin's abilities that not only has he completed 13 events in the car he has also driven it to four of the meetings, save Pembrey which is 440 miles from his home.
Firstly, Justin wins the Motor Sport Brooklands Trophy, organised and administered by the Vintage Sports Car-Club and a registered MSA Championship for competitors racing cars constructed before or using components from specified cars built before 1st January 1941.
The trophy was first presented in 1950 having been procured by the Motor Sport Brooklands Memorial Fund to be awarded for the 'best aggregate performance in the B.A.R.C. Goodwood Members' Meetings' to be contested 'annually by amateur drivers in Brooklands-style races'. The first winner of the Trophy was J.C.C. Mayers with a Lester-M.G. Subsequent winners in the early years included Mike Hawthorn, George Abecassis, Innes Ireland and Mike Taylor.
With the imposition of a three-litre limit and ultimate demise of the Goodwood circuit, the trophy passed to the Vintage Sports-Car Club in 1966. The VSCC limited eligibility to Vintage and PVT cars in order to maintain the original intentions of commemorating Brooklands type racing. This means that the trophy has always been associated with these older cars and, as such, in recent times the winners have been notable drivers of historic machinery rather than up and coming Grand Prix stars, but the winners names are still very well known including such luminaries of the art as Neil Corner, Hugh Conway, Bernard Kain, Nick Mason, Tony Mayman, Philip Walker, Duncan Ricketts, Mark Gillies, Julian Bronson and Mac Hulbert.
Justin Maeers topped the standings ten points ahead of close ally, Charles Gillett (Frazer Nash Super Sports) and 83 ahead of third placed HRG racer, Andrew Mitchell.
He also nets the Longstone Tyres Vintage Racing Trophy which recognises drivers of Sports-Cars that have been driven to the circuit to race. Competitors accumulate points based on their racing successes throughout the season and are awarded tyre vouchers to spend with Longstone Tyres. Justin beat fellow 'Nash man, and Longstone Tyres owner, Dougal Cawley by 14 points. No doubt he'll look forward to replenishing the GN Parker with some new tyres over the winter in preparation for the 2014 season.
Caption: Justin Maeers gets his just reward for his superb performances this season. Photo: Dennis Rushton