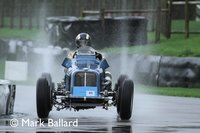 Monday 28 October 2013
Morgans go head-to-head with ERAs at VSCC Autumn Sprint
Sue Darbyshire claims 'Fastest Time of the Day' at final VSCC Speed event of 2013.

With three ERAs appearing in the entry list for the VSCC Autumn Sprint at Goodwood, the assumption was that one of Bourne's finest export would walk away with the 'Fastest Time of the Day' accolade, but as the weather conditions deteriorated throughout the afternoon it was clear that this was not going to be a walk in the park.
As the Class 14 cars warmed up in the pit-lane midway through the first afternoon timed runs, the rain started to fall with vengeance. Duncan Wood drove well to achieve a time of 124.86 seconds in his 1929 Morgan Super Aero with Sue only a whisker behind him (125.60 seconds). Riley Falcon pilot, Robert Cobden was the biggest threat to a Morgan class victory and certainly gave the pair something to worry about with a 124.91 second run whilst Ian Baxter's MG Bellevue Special could not be dismissed after a 125.73 second effort.
Terry Crabb was not enjoying the conditions in ERA R12C and was out of contention, Ben Fidler in ERA AJM1 established a 128.69 seconds run. All eyes were now on James Baxter, enthused to be out in ERA R4A on the circuit where it performed so well, only a few weeks ago at the Goodwood Revival meeting in the hands of co-owner, Nicholas Topliss and he went top of the table with a 122.86 second run.
Conditions worsened as the second runs commenced however, competitors were not deterred splashing through puddles on the track and adding on average ten to twenty seconds on their first attempts.
Sussex based Mark Groves won Class 1 (Standard and Modfied Sports-Cars up to 750cc supercharged) in his ever dependable 1930 Austin 7. Andy Baker topped Class 2 in his 1930 Riley Brooklands that he shared with his brother James with an impressive 149.47 second fastest time.
Barry Foster's nimble MG Montlhery set the tone in Class 3 with sub 140 second run, only matched by Tim Kneller having his first chain-gang experience in Geoff Smith's 1929 Frazer Nash Super Sports. John Guyatt bagged Class 6 honours in his Darracq Talbot Lago in a class that was populated with some interesting and rare larger capacity sports-cars including John Fack's 1935 Railton Light Sports (second) and Harry Colledge's Vauxhall 30-98 (third).
Dr David Pryke blitzed the Riley dominated Class 9 in his Riley 12/4 TT Sprite Replica to win by a 15.82 second advantage. Jo Blakeney-Edwards (Frazer Nash Shelsley) enjoyed a hard fought battle with Dudley Sterry (HRS Sports) and took the advantage by just over a second whilst fellow 'Nash man, David Wylie won the class in his AC engine car.
In Class 11, Ewen Getley shared his potent Bentley 3/4 ½ litre car with fellow Bentley specialist, Ben Collings. Following some great performances this season he went two seconds faster than Ben and took the outright class victory.
Matt Johnston performed well in the small capacity racing car class (Class 13) to come out on top in his Austin/MG LA Special with a 143.30 second run, his nearest challenger, Stuart Roper-Marshall in his 1934 Austin 7 completed in 144.17 seconds.
All eyes moved back to Class 14 as the ERAs of Fidler and Crabb had been loaded onto their trailers prematurely, encouraging the Morgan duo of Wood and Darbyshire that overall victory could fall to the three wheeler fold. Wood lost time and dropped 1.2 seconds off his previous pace, whilst MG Bellevue driver, Ian Baxter shaved just over two-seconds off and momentarily led the class. Sue Darbyshire mustered up every ounce of her enviable gritty determination and charged round an incredible 4.15 seconds faster, her time of 121.45 seconds could only be beaten by James Baxter in ERA R4A as Riley driver, Robert Cobden matched his 124 second run. In the dying minutes of the timetable, James gave it his all, but the wet conditions were to get the better of him and he could not improve on his 122.88 1
st
run so Sue was the worthy victor, her last event of a memorable 2013 where she and her husband and devoted mechanic, George have competed at 22 events on the continent since the Spring. They will be looking forward to recuperating over the winter months and preparing their two Morgan racers ahead of the Club's first race meeting, the 'Spring Start' now confirmed for 12-13 April 2014 at Silverstone.
Provisional Results from the Autumn Sprint at Goodwood are now available to download (
click here)
.