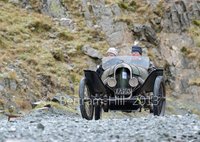 Monday 11 November 2013
Lakeland Trial Provisional Results
The annual VSCC Lakeland Trial was held on Saturday in testing conditions as the first of the winter snow fell on the Northern Lakes. Snow and hail storms battered the Bassenthwaite area near Keswick as half of the 100 entrants arrived for morning scrutineering but the valiant marshals officiating the six hills in the forest kept the show on the road, and spirits amongst the competitors high as they tackled some thrilling sections.
The bitter conditions did not deter Louise Bunting who was attempting to successfully defend her 2012 win of 'The Bridge Trophy' for the highest scoring competitor in Class 1 in her 1919 GN Touring. Frazer Nash Car Club Captain, Louise powered through the Bassenthwaite sections with a clear score card only dropping points at 'Wood End View' where she achieved the top score of 16, 1 more than all of her class rivals and retained her title, quite an achievement given that her GN was the oldest competing vehicle on the event.
Thankfully the wintery showers passed through by lunch time and competitors enjoyed challenging climbs up some of the most thrilling sections on the VSCC Trials circuit including 'Drumhouse' at
Honister Slate Mine
and sections based within the Forestry Commission Hobcarton area.
Charles Gillett dominated Class 1a for 'Short Wheelbase Standard Cars' in his 1923 Bugatti Brescia, one of two at the event as we welcomed Northern Irish based Andy Johnson in his 1924 car.
Three Model A Ford drivers took the awards in Class 2a for Long Wheelbase Standard Cars with Chris Batty pipping Mike Littlewood to the overall win by 8 points, Dennis Bingham took a 3
rd
class award in his 1930 car.
Paul Jeavons overcame the mechanical issues that blighted his Welsh Trial a few weeks ago and won the Kirkstyle plate for the highest scoring performance in Class 2b for Long Wheelbase cars in his 1924 Vauxhall 30-98 Tourer. He finished 2 points ahead of Model A Ford driver Robert Hodgkinson from North Wales and Jonathan Miller in his 1930 Chrysler 66 Sports both on 253 points. He gained the advantage by scoring 16 points on 'Grizedale', the highest of all the Class 2 competitors.
Provisional results can now be viewed by members, log in and go to 'Events' and select the Lakeland Trial. The next, and final Trial of 2013 is the Cotswold Trial on Saturday 23 November. Prospective competitors are reminded that entries close this afternoon.
Photographs by Paul Down are now available to view on the Lakeland Trial event page.