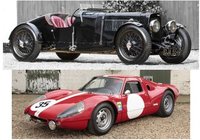 Friday 29 November 2013
TWO CONTRASTING COMPETITION CARS FROM GERMANY AND ENGLAND TO STAR IN BONHAMS MAJOR YEAR-END AUCTION
Built 30 years apart: 1964 Porsche 904 GTS and 1934 Aston Martin Ulster are set for Bonhams New Bond Street Sale, Sunday 1 December.

The Porsche GTS Endurance Racing Coupe was bought brand new from the Porsche factory by Georges Filipinetti, the Scuderia Filipinetti race team patron, in April 1964.
Finished in the team's trademark red livery, on 31 April the car made its racing debut at the Nurburgring track in Germany for the ADAC 1,000km race, co-driven by Herbie Muller and Andre Knorr.
It fast made an impression in the racing world.
In 1964, Muller co-drove the car with Claude Sage in the Le Mans 24-Hours race, finishing fourth in class and 11th overall.
After numerous endurance and mountain challenges, it soon became a road-rally car and in 1966 its new owner, Dumousseau, won the Rallye de Lorraine in France and the AGACI Rally.
After having its engine and gearbox completely re-built by the Porsche factory, the car then spent more than 20 years on display in the marque's renowned museum in Stuttgart.
Chassis 079, as it is known, was exhibited at the museum until 2009 and subsequently acquired by a British collector, who had it restored for historic racing.
079 returned to Le Mans for the classic event in 2010 and 2012, and has been maintained in race-ready condition since.
The Porsche 904 is for sale equipped with a 2-litre 6-cylinder engine rebuilt in 2011 and, unusually, it also comes with one of the rare Porsche Typ 587/3 4-cam flat-4 engines rebuilt in 2009, which remains unraced.
Complete with spares, the car is estimated to be worth £1,300,000 - 1,600,000.
In addition to the Porsche 904, the immaculate 1934 Aston Martin Ulster competition two-seater will also appear at auction on 1 December with an estimate of £600,000 - 800,000.
The car is one of just 31 Ulsters built and, while 28 still survive, this model can boast exceptional provenance and originality.
Unlike its fellow survivors, this Ulster, registration DJA 554, has been little raced in its lifetime, and thus retains many original features including – crucially – the original coachwork by Enrico Bertelli.
Furthermore, it has been privately owned by the same family since 1974 and, having been extensively restored at great expense in recent years, is in fully operational condition.
Earlier this year the car was chosen as one of the 100 iconic Aston Martins for the timeline display at the prestigious Aston Martin Centenary Celebrations at Kensington Palace Gardens.
It is, of course, also eligible for historic motor sports events such as Le Mans Classic and the Mille Miglia retrospective.
James Knight, Bonhams Group Motoring Director, said: "Our inaugural December auction at our flagship New Bond Street headquarters promises to be one of the most exciting Sales of the year.
"As well as these two race cars, and of course the Dick Skipworth Ecurie Ecosse Collection, we have collated 34 wonderful and varied entries, from a 1903 Clement-Talbot to a 1970 De Tomaso Mangusta."
The VSCC will be represented at the sale. For further information please visit the Bonhams website
(click here).
Bonhams are Principal Associates of the Vintage Sports-Car Club