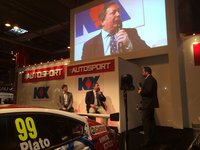 Monday 13 January 2014
VSCC announce their 2014 Season at the Autosport International Show
The Vintage Sports-Car Club were in attendance at one of the world's biggest motorsport shows, the Autosport International Show at the NEC in Birmingham on Friday to announce their busy 2014 Season ahead.
Club Secretary Mike Stripe and new Press & PR Secretary James Taylor took to the Autosport Stage to discuss a stellar calendar of events for the Club's 80th Anniversary year with commentator and motorsport journalist Henry Hope-Frost.

Introduced as one the UK's oldest and most active motoring Clubs, the VSCC will host over 40 events in 2014, with highlights including the Silverstone 'Spring Start' Race Meeting (12/13 April), Prescott Speed Hill Climb (1-3
August) and the Club's week of Anniversary events at the East of England Showground (4-9 August).

Mike Stripe stated, 'What sets the VSCC apart from other Clubs is the variety of disciplines that we offer not only Race Meetings but Hill Climbs, Sprints, Trials, Rallies, Driving Tests and Tours as well.'

And whilst there will be plenty of opportunity for those with Pre- and Post-war cars to compete, the VSCC continues to be an all-inclusive Club, where even those enthusiasts who do not own an eligible car can get involved, either as spectator or marshal or simply enjoying the Club's celebrated publications, the monthly Newsletter and quarterly Bulletin magazine. With over 7000 members worldwide, the Club continues to be one of the leading forces in Pre-war motorsport and we look forward to celebrating a milestone year in 2014.