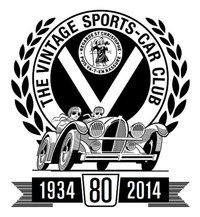 Wednesday 05 February 2014
Only 6 Months until 80th Anniversary Celebration Week & Entries are filling-up fast!
With only 6 months until the celebrations commence for the VSCC's 80th Anniversary week, we would like to remind all VSCC Members planning on attending the celebrations, based at East of England Showground, Peterborough from 4 – 9 August 2014, to put their entries in early for all events, as entries are allocated on a first-come-first-served basis. This means that no preferential treatment will be given to anyone, including Directors, Staff, Marshals or Regular Competitors.
One of our Anniversary events has just reach 50% of its maximum entry capacity, so if you are planning on entering events please do not delay.
Entries are being accepted online (you will need a Eligibility Document and Credit Card lodged with the Club), downloadable Entry Form (you will need your Membership Number and PIN to log into the website) or by sending a SAE to the Club Office.
During the course of the celebrations Members have the opportunity to compete in
Driving Tests
Concentration Runs
Touring Assemblies
Rallies
Versatility Trial
AutoSOLO
Straight-Line Sprint
Treasure Hunts
Gala Dinner
Piano Concerts
Rally Teach-In
Archive Film Nights
There are also multiple accommodation options for all those attending, with Camping available at the Showground and specially discounted deals with local hotels for VSCC Members.
Full details of the Events and Accommodation options can be found
here
.