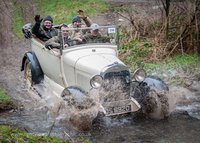 Friday 14 February 2014
Wintery Weather will not deter the VSCC for this weekend's Trials Season opener in Exmoor
In spite of the severe weather conditions currently affecting the UK, particularly the South-West region, we are delighted to advise that the VSCC Exmoor Fringe Trial is still going ahead this weekend, based again at the Anchor Inn, Exebridge on Saturday 15 February.
Long-time organiser and Clerk of the Course, Graham White and his team have been tested by the weather gods yet again and have been battling hard to ensure their annual Fringe Trial goes ahead. Following countless visits to the event sections over the past week, they can confirm that the event is still able to run and will provide competitors with some fantastic sections to contest.

Please note that there have been cancellations/changes to some sections due to access issues caused by flooding and the like. This will be advised to Competitors at the Event HQ at Signing On and Marshals in advance.

We are also happy to confirm at this time that The Anchor Inn itself is not affected by the floods, so if you would like to attend the dinner and have not already booked please do so immediately, directly with the venue (call 01398 323433).

Should these circumstances change, we will obviously contact all participants and marshals immediately however, we do not anticipate this to be required.

If you are unable to attend the event for whatever reason please let us know by calling the Competition Department on 01608 644777 (ext 4) up until 1.00pm.

We look forward to welcoming our members over the weekend and wish you all a safe journey to Exebridge.