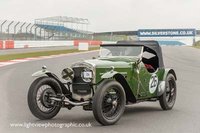 Friday 21 February 2014
Silverstone in February can only mean one thing... it's time for the VSCC Pomeroy Trophy!
What better way for the VSCC to usher in the start of the Race/Speed Season in its 80th Anniversary year than with the legendary 'Pom'? The event has been a VSCC staple for over 60 years and continues to attract one of the most eclectic line-up of cars you are likely to see anywhere in the world of motorsport. Silverstone welcomes us again tomorrow Saturday 22 February.
VSCC Members from as far afield as Connecticut, USA will bring their Pre- and Post-war cars to the home of the British Grand Prix to take part in one of the Club's oldest and most unique traditions. Having proven themselves 'roadworthy' via the morning Filter Point, they will face a number of challenges throughout the morning, including the famous 'suitcase test' and driving tests of speed and agility before taking to the National Circuit for the afternoon's forty minute Regularity Trial to complete a designated target number of laps. Aided by the event's complicated formula, we will crown the best GT car by day's end.

This year's entry spans almost a century of motoring, with David Biggins's 1923 Crossley Sports 19.6 the day's elder statesman. A traditional powerhouse of the 'Pom', we welcome a hoard of over a dozen Frazer Nash cars, with multiple champion Patrick Blakeney-Edwards amongst them; eyes will be on Charles Gillett, however, as he gets behind the wheel of Patrick's thrilling Frazer Nash Saloon 'Owlet' for the first time competitively – can he repeat the owner's win of 2011? Current Pomeroy Trophy holder Dudley Sterry will undoubtedly challenge again in the HRS Sports whilst Alastair Pugh will also be hoping for a repeat performance of his Densham Trophy victory from last year.

Of the Post-war brigade, German engineering seems the popular choice with four decades of BMW, Volkswagen and Porsche models on show whilst 1960s American muscle comes in Ford Mustang form and Italian elegance in the shape of Dan Ghose's 1952 Ferrari 212. As well as the usual bevy of 'Pom' family-wagons, Michael Steele's monstrous 7-litre 1963 Ford Galaxy should provide plenty of entertainment whilst Simon Diffey's similarly-aged Jaguar E-Type will undoubtedly be well-prepared by the experienced Historic racer.

Morning Tests will commence at 10.00am with a Lunch Break scheduled before the start of the Afternoon track sessions. Whilst not a Public Event, VSCC Members are most welcome to attend; please ensure to bring your 2014 Membership Cards to gain access to the venue. And don't forget to wrap up warm!