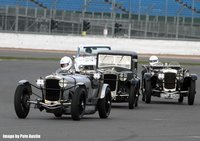 Monday 24 February 2014
Pomeroy Trophy Provisional Results & Photo Gallery Now Live
Members can now download Provisional Results from this weekend's Pomeroy Trophy, which took place at Silverstone on Saturday 22 February.
The usual wintery conditions associated with the 'Pom' were nowhere to be seen this year, replaced with a day of glorious sunshine and, for Silverstone's familiar wind-swept landscape at least, mild temperatures. Little surprise then that a bumper crowd of Club members were on hand to watch this most famed of VSCC events.
Competitors were similarly enthusiastic, buoyed at the chance to be back on track after a long and challenging winter. The 'Pom' drew its usual eclectic array of machinery, from the Pre-war brigade, no doubt with a keen eye on the upcoming season, through to the wonderful assortment of Post-war entries. There were plenty of sights to behold – Simon Diffey's immaculately turned-out Jaguar E-Type was lightning quick – it was only bested by three much younger adversaries in the 'flying 250' – before mechanical issues cut short his afternoon with only a few minutes of his Regularity session to go. The first of the afternoon sessions saw the 1972 BMW 2002 of Richard Tyzack and the 1965 MG BGT of Oliver Eaton neck-and-neck for the majority of the 40 minutes, finally completing 30 and 31 laps respectively. Our members had their first taste of the MSA's new regulation on track limits with the latest 'wheels off' interpretation catching out a few as they clung to the kerbs of the National Circuit's perimeter.
As has been the case for the past few years, Frazer Nash was undoubtedly the weapon of choice as the marque filled the top four places and six of the top ten. Despite picking up a 10-point penalty for lacking a proper hood, Fred Wakeman's experience in his 1928 Frazer Nash Super Sports proved telling as he took overall victory and the Pomeroy Trophy. The Densham Trophy for the next best-placed Pre-war car went to his close rival Charles Gillett, with whom he fought an epic battle at last year's 'Spring Start' meeting; Charles drove the Blakeney-Edwards Frazer Nash Saloon 'Owlet' for the first time ever at the 'Pom' and his 'chain-gang' prowess earned him second place, just beating out the owner, Patrick driving his TT Rep model. Fellow Blakeney-Motorsport member Martin Hunt completed the quartet, in his beautiful Frazer Nash Targa Florio, the highest-placed Post-war car. Unfortunately there were no Edwardian entrants on the day, so as the rules dictate, the Pomeroy Edwardian Trophy was awarded to the best-placed 2-wheel braked Vintage car – a deserved accolade for David Biggins for his first competitive outing in his 1923 Crossley Sports.
As ever, our thanks go to the competitors, officials and marshals for their part in yet another memorable Pomeroy Trophy.
Members can now visit the Event Page (
CLICK HERE
) to download Provisional Results and see a selection of photos from the event.