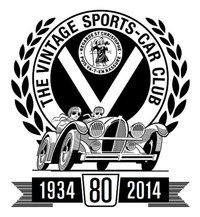 Wednesday 26 February 2014
Colin Crabbe announced as Guest of Honour at the VSCC 80th Anniversary Gala Dinner
We are delighted to announce that Colin Crabbe will be the Guest of Honour at the 80th Anniversary Gala Dinner, being held in the Cambridge Suite at the East of England Showground, Peterborough on Saturday 9 August 2014.
Colin Crabbe is a well-known collector and dealer of Historic Racing Cars, with one of his most famous acquisitions being the Pre-war Mercedes-Benz W125. In 1966 and 1967 he entered several Sports-Car Races as a driver, first in an Aston Martin DB4 GT at Silverstone, then in a Ford GT40 in various races in Europe and southern Africa, his most notable result being an eighth place in the 1967 1000km of Nürburgring with Roy Pierpoint as his co-driver.
Colin then progressed into a Team Manager's role, for the privateer Formula One Antique Automobiles Racing Team, which entered a single car in 17 Formula One races during the 1969 and 1970 seasons. Vic Elford and Ronnie Peterson drove for the team in a Cooper T86, a McLaren M7B and a March 701.
In addition to Colin's attendance guests at the dinner will be treated to a Champagne Reception, kindly supported by Bonhams, a top quality four course dinner, live musical entertainment and a couple of other special surprises.
Tickets are priced at £50 per person and with nearly 1/3 of the tickets already sold we are encouraging those who wish to attend to book soon.
Booking Forms can be downloaded here.
The Gala Dinner will be one of the highlights of the Anniversary week of Celebrations,
for full details of the 80th Events and Accommodation Options click here