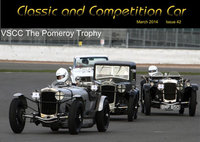 Wednesday 05 March 2014
March Classic and Competition Car
The March issue of Classic and Competition Car is now online and available to download.
In this issue we have reports from the VSCC Pomeroy Trophy, the final round of the Tasman Cup Revival from New Zealand and the Race Retro Show at Stoneleigh, near Coventry. The Race Retro report includes the show, the outdoor live action rally stage and the Silverstone Auction. We also have a report on the Winter Challenge rally that started at Race Retro and headed south to Monte Carlo and the Retro Challenge rally which followed just the UK section of the Winter Challenge rally.
Our Archive gallery of the month is from the 1971 BOAC 1000 kms race at Brands Hatch, and the classic car of the month is a 1916 Dodge Straight 4 Tourer. Finally we have a report from the first Shelsley Breakfast Club meeting of the year. Plus all our usual News features.
Download at
www.classicandcompetitioncar.com