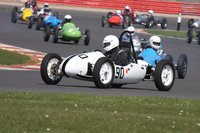 Thursday 13 March 2014
Illustrious Historic Racing Series to join the celebrations at 'Spring Start'
The Vintage Sports-Car Club will welcome a number of established Historic Race Series to their Silverstone 'Spring Start' Race Meeting on the weekend of 12-13 April. The Club's own programme of races for Pre- and Post-war Racing and Sports-Cars will be complemented by invited grids from some of the most popular Associations of the Historic Racing fraternity.
The Historic Grand Prix Cars Association will host a race on each day for their celebrated Pre-1966 Grand Prix Cars. Revered names of the 1960s will be represented, including Cooper, Lotus, Lola, Brabham and more. The HGPCA will also hold their traditional Test Day on the preceding Friday, catering for both Pre- and Post-war machinery.
Following the success of last year's centenary event, we also welcome the return of FISCAR with a 30-minute race on Saturday to celebrate the career of Pre- and Post-war racing icon George Abecassis. A full grid of those models raced in or against by the man himself in period is anticipated, with classes for Sports Racing cars, and Production Sports and GT cars introduced between 1946 - 1956, particularly Aston Martin DB2/3/3S and HWMs.
Enjoying a close relationship with the VSCC for a number of years, the Formula Junior Historic Racing Association host a round of their Pre-1961 'JMW' Front Engined Championship on Sunday. A most popular formula both in period and today, the grid will likely feature the popular Stanguellini, Elva and Gemini models, as well as some rarer machinery from North America and more.
Completing Sunday's roll-call of Historic formulae, the 500 Owners Association once again join the VSCC at Silverstone. Their double-header 'Commander Yorke Trophy Race' was one of the star attractions of last year's 'Spring Start' Meeting with the biggest grid of F3 (500) Racing Cars since 1955; this year they host a 20-minute race. They will also join the VSCC Race Meetings at Cadwell, Pembrey and Donington in 2014.
The VSCC will also be hosting two additional events of their own on Sunday: a grid of 1950s Sports and Sports Racing Cars will enjoy a re-run of the optional two-driver/pit-stop format event whilst we will also honour Aston Martin with a special single marque race for Pre-1960 cars.
Full details of the 20-Race Programme can be found on the Event Page (
CLICK HERE
). Here you can also download Supplementary Regulations and an Entry Form, the latter to complete and return to the VSCC (post/fax/email accepted). Club Members with a payment card registered with the Office and who know the Eligibility Buff Form number of the car they intend to enter can also use our online entry facility.
SPECTATORS
Advance Ticket Sales are now open – Prices for each day are as follows:

GENERAL PUBLIC
book at
www.silverstone.co.uk
or call 0844 3750740
£12 in advance
£15 on the day
£20 Weekend Ticket (advance only)
VSCC MEMBERS
book online at the Event Page (
CLICK HERE
) or call the VSCC Ticket hotline on 01608 644999
£10 in advance
£15 on the day
Children under 16 go free. Advance ticket sales close 8 April.