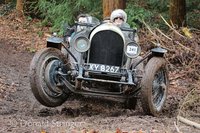 Friday 14 March 2014
VSCC Members prepare for the Herefordshire Trial this weekend
This Saturday and Sunday will see our Members take part in the third event of an already busy 2014 Trials Season. Yet another stellar entry of over 100 Pre-war cars will be making their way to the traditional Event Headquarters at How Caple Court near Ross-on-Wye before heading out to tackle a total of 15 Hill Sections over the weekend.
The Club's annual visit to the wonderful Wye Valley is a firm favourite on the calendar, with its two-day format starting lunchtime on Saturday through to a mid-afternoon finish on Sunday a terrific recipe for a relaxed weekend of Vintage motoring. The long-established Supper Party on the Saturday night at the Concert Barn provides the perfect 'halfway halt' for competitors and marshals to gather, offering a fantastic meal and the announcement of the all-important halftime scores.
The event is also a favourite for spectators, who again will be most welcome to come and watch the action at some of the sections over the two days. Saturday Hills will be open 1200-1730hrs whilst Sunday runs 0845-1430hrs. Download a copy of the Spectator Information for full details including locations of those Hills open to Spectators and a complete Entry List (
CLICK HERE
).
Among those tipped to challenge for victory this weekend is David Golightly, overall winner of our John Harris (Derbyshire) Trial a fortnight ago in his Ford Model T Special, who will undoubtedly face some stiff competition from our regular Austin 7 challengers, including Matt Johnston and Don Skelton. David Leigh will be looking to reassert the dominance of his Frazer Nash Interceptor among the Standard short wheelbase cars after a change to standard-sized wheels saw him top the Class last time out. After his sterling Clerk of the Course efforts for the season-opening Exmoor Fringe Trial in February, Graham White was back behind the wheel of his Lea-Francis for the Derbyshire event and took top honours amongst the long wheelbase Classes. He will be hoping to repeat this weekend but will not have an easy time with Bentley, Chrysler, Ford, Morris, Riley and Vauxhall models all out en masse to see their marque atop the standings. Of the Standard cars, it will again likely be the Battle of the Ford Model As, including both Class Winners so far this season in Jonathan Rose and Marcus Creaser.
We wish all those taking part, competitors, organisers and marshals another wonderful VSCC weekend.