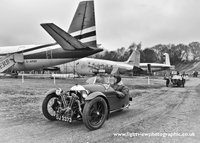 Monday 21 January 2013
New Year Driving Test Entries Close Tonight!
We would like to remind all competitors that entries for the New Year Driving Tests, held at Brooklands Museum on Sunday 3 February need to be received before midnight tonight (Monday 21 January).
VSCC Driving Tests are a terrific introduction to Pre-war motor sport, demanding good car control at low speeds whilst being one of the cheapest disciplines (Entry Fee £48, ½ Price for those aged under 30 years on 1 January 2013*). As such, they often attract a good number of younger competitors (minimum Competitor Age is 16, no Driving Licence required – restricted to Touring Cars under 1400cc). Read more about our Driving Tests
HERE
.
* New for 2013
We have already received a strong entry of over 55 competitors, making this the best entry the event has received since 2010, but still have room for those final few competitors looking to get their 2013 competition season off to a fun start.
Or If your car is still in 'hibernation' after the winter break or if you don't own an eligible car, why not get involved and volunteer to marshal? Always a great social occasion, the event is dependant on its band of volunteers to help run the tests so earn yourself some "brownie points" for the 2013 season ahead! Read more about Marshalling and how to volunteer
HERE
.
To enter online simply click on the EVENTS menu...find the event ( the full list of events is displayed if you are a Club member, otherwise you can only see the Public Events) and you can make it easier by using the filters on the right hand side for event type, date etc and click on 'Enter Event' which will take you to the online entry system.
Competitors who miss this deadline should call the Competitions Department on 01608 644777 ext4 as soon as possible.