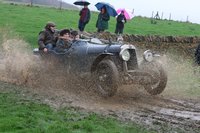 Tuesday 22 January 2013
VSCC Extends Young Member Benefits to under 30s
The Committee of the Vintage Sports-Car Club has voted to increase the age up to which younger members benefit from half price entry fees from 25 to 30 years old with immediate effect.
The VSCC has long encouraged youth into the Pre-war car movement and has offered half price entry fees and membership rates to youngsters for over 15 years. As such, the VSCC boasts young membership levels that are much higher than most Vintage, Classic and Historic Motoring Clubs and has always welcomed a good number of young competitors to its events.
Always looking forward, the Committee recently addressed the issue to further the encouragement of young people to the Club, and extended the age to which young members benefit from half price entry fees by five years.
VSCC Competition fees offer extraordinary value for money for those wishing to get started in motorsport. For the 2013 season, under 30s pay approximately £60 to enter a 5 lap Scratch or Handicap Race which the VSCC operates at all five of its annual race meetings and between £83 and £120 for a long trophy race (prices vary on length of race and venue). The forthcoming Pomeroy Trophy on 27 February at Silverstone will cost under 30s just £41 for Pre-war cars or £85 for a modern machine. Hill Climbs are Sprints range from £40 - £67. Rallies, Trials and Driving Tests are very reasonable with entry fees starting at only £24.
Young membership of the Club for under 30 year olds is £37.00 for the year, a saving of 50% of the standard UK membership of £75.00 (discounts available on the full membership price) and Junior Membership for Under 16s is only £9.00.
Competing members under 23 years old are also eligible for the John Rowley Trophy which is an annual aggregate trophy with points scored across all VSCC events in a season and one of the most highly regarded in the Club.
Alongside the VSCCs 42 annual Competitive events existing young members organise a camping trip with their vintage cars to France in the summer, and there will soon be a dedicated area on the updated vscc.co.uk website with a Young Members blog that will detail social gatherings and activities.
The VSCC 2013 competition season has already started! For more information on these events
click here