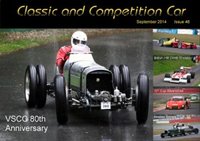 Wednesday 10 September 2014
September Classic and Competition Car
The September Issue of Classic and Competition Car is now available to download. This month's issue features reports from the 80th Anniversary of the VSCC with events at Prescott, Santa Pod and Peterborough.
Also featured are the Bentley Drivers Club race meeting at Silverstone; GT Cup action and MSVR support races from Silverstone, MG Car Club race action from Donington Park and a round of the British Hill Climb Championship from Shelsley Walsh. There is also a guide to the new Electric racing Formula E which starts this month in China. We have photos of the teams and drivers from their pre season testing at Donington Park. We also have photos from CarFest South, and the latest Coventry Classic Car Breakfast Club meeting. Final we have a special report from the Bonneville Speed week, which was unfortunately cancelled due to flooding. Plus our usual news and features.
We also have our multimedia version which contains embedded video clips.
Visit
www.classicandcompetitioncar.com